Finding cheap auto insurance in Delaware isn't very easy. The First State has relatively expensive car insurance, so not even the best deal is extremely affordable.
That said, there's no reason not to shop around for the best prices. This is where our guide comes in. We took a thorough look at Delaware's top insurance providers and determined who offers the best and most affordable premiums.
Besides that, we'll tell you about Delaware's car insurance laws, ranging from minimum requirements to no-fault laws. So sit back and enjoy the intel!
The Best Car Insurance in Delaware
Geico: best overall
Nationwide: best customer service
USAA: best for cheap minimum coverage
State Farm: best for affordable full coverage
The Overall Winner: Geico
All factors considered, we can safely say that Geico provides the best insurance in Delaware.
The average insurance package with Geico will cost you $1,275 annually. That's a tad over the state's average of $1,200.
So, Geico isn't exactly topping the charts for the cheapest car insurance in Delaware, but it's hardly an excessive price.
For some demographics, like teen drivers and poor credit holders, Geico offers deals that require heftier payments. Respectively, young drivers will have to pay $6,561 (full coverage) while poor credit holders can expect costs of $2,997 per year on average.
Though it isn't the cheapest, the company gives you plenty in return, as this Geico review will demonstrate. You can enjoy benefits like auto repair guarantees and car purchase services, among others.
The company's coverages are pretty standard for the industry, with a few novelties sprinkled in. So, expect the same perks you'd find in other Delaware auto insurance issuers, such as:
Uninsured/underinsured liability coverage
Collision/comprehensive coverage
Bodily injury/property liability coverage
Gap insurance for leased cars or vehicles
Medical payment/personal injury protection coverage
Besides these, there are a few intriguing coverages to take advantage of. MBI (Mechanical Breakdown Insurance), for example, covers some repair costs for cars not older than 15 months with fewer than 15,000 miles crossed.
But the offers of Geico Delaware do not end there. The company has a few more types of coverage that may pique your interest.
Here are other coverages to take advantage of:
Rideshare insurance
Emergency road service
Accident forgiveness
Glass coverage
Rental reimbursement
That's great, but what about the company's discount policies? As it turns out, Geico's discounts are also in line with what one may find in other auto insurance companies in Delaware:
Federal employee discount
Membership and employee discounts
Multicar discount
Driving history discounts
Multipolicy discount
Vehicle equipment discounts
Pay-in-full discount
Student discounts
Defensive drivers discounts
Military discounts
However, Geico's technological accessibility is what sets the company apart from the competition.
Geico's app lets you handle pretty much every facet of your car insurance. You can do anything, from getting quotes to filing claims. And you don't need to visit a brick-and-mortar location or talk to an agent for your insurance needs. You can even use Alexa for your bill-paying needs.
In this regard, Geico may very well offer the best car insurance in Delaware.
Discounts & Optional Coverages
Choose Geico if: you want quality services with online/app capabilities.
Look elsewhere if: you're looking for the absolute cheapest option.
Join
341 Drivers
Who Got a Quote Today!
Easy to Use
Safe & Secure
Best-Rated Car Insurance Companies
Assisting Drivers Compare Rates & Save Since 2017
or speak with an Agent by calling
Nationwide: Great Customer Service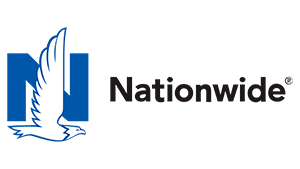 Nationwide has been around for decades. It has a well-established reputation and financial strength, as almost every Nationwide review points out. 
But that prestige also comes with a price (well, for the customer, at least).
Nationwide definitely stands on the pricier side of the spectrum. The average annual rate for a Nationwide customer amounts to $1,468. That does make Nationwide, Delaware a more expensive alternative.
The list of coverages Nationwide offers is fairly diverse. The usual "suspects" are all there: comprehensive, collision, liability, personal injury protection, and uninsured/underinsured motorist. But there's much more. Nationwide offers the following features and coverages:
Vanishing deductible
Gap coverage
Rental transportation expenses
Total loss deductible waiver
Roadside assistance
Accident forgiveness
SmartMiles (monthly insurance pricing based on car mileage)
There's plenty to choose from as far as discounts go, making Nationwide closer in affordability to cheaper car insurance companies in Delaware.
Here's a rundown of possible discounts under Nationwide:
Paperless billing and electronic funds transfer: $30 off
Smart Ride: 10%
Member of Farm Bureau: 10%
Defensive driving: 10%
Multipolicy discount: 25%
Good student (B or above): 15%
Partner business or organization membership: 10%
Family plan: 25%
Anti-theft device installation: 5%
Accident-free for five years: 10%
The proper use of these discounts can significantly lighten the financial load that comes with the company's services.
One thing to note about Nationwide is its high customer satisfaction. Compared to other Delaware auto insurance companies, the company has above-average quality service reviews.
One factor that surely contributes to this fact is the On Your Side program.
Namely, Nationwide agents get in touch with customers once a year and offer advice or take feedback. They make sure everyone understands their policies completely and see if customers can change their plans for the better.
This is a very good way for Nationwide to keep itself available to its customers. It helps the company shed the public perception of an incomprehensible force out to maximize profits. So if you're looking for quality service, Nationwide is the DE auto insurance company for you.
Discounts & Optional Coverages
Choose Nationwide if: you want diverse discount/coverage options coupled with good service.
Look elsewhere if: you're out for cheap coverage.
USAA: Terrific Service for Military Personnel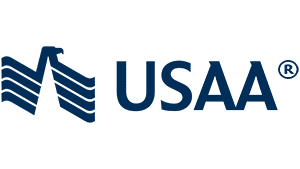 USAA has some of the finest policies at the best rates you'll find in Delaware. The big catch is that you have to be a military member (or related to one) to be eligible for their insurance.
But if you fulfill that condition, USAA can easily provide the best car insurance in Delaware for you.
If you sign up with USAA, expect to pay an average of $4,002 per year for full coverage. Minimum coverage, on the other hand, costs $2,050 annually on average.
USAA is one of the most affordable alternatives for people in Delaware looking for an insurance plan. Granted they need to have ties to the military, it's still a very cheap option.
There's a lot to look forward to in terms of coverage, too. Beyond the standard comprehensive, liability, and collision coverages, the company offers the following for Delaware cars and vehicles:
Glass coverage
Rental reimbursement
Car replacement assistance
Towing and labor
Total loss protection
Accident forgiveness
Gap insurance
The discounts USAA offers are varied, but not all that much outside the norms for insurance companies.
One particular discount you should be aware of is the stored-vehicle discount. As long as your vehicle remains parked in a safe location for 30+ days, you save on coverages such as collisions.
You could end up saving as much as 60% on your premium with this coverage. So if you're deployed, you'll hardly find a better option for cheap auto insurance in Delaware residents can hope for.
Something many USSA reviews also point out is the company's many discounts.
Here's a quick list of discounts available at USAA:
Defensive Driving Course: Complete a specific course to save money on premiums.
Premier Driver Discount: Keep a solid driving record for five years and get a discount.
USAA's Discount for Driving Research: Take part in USAA's research by tracking your driving and saving 5%.
New Vehicle: available with vehicles less than three years old.
Military Installation: Save 15% on your Delaware auto insurance plan by garaging your vehicle on military grounds.
Family Discount: Enjoy a discount if a family member's already signed up with USAA.
Automatic Payments: Save up to 3% by scheduling automatic payments.
Annual Mileage: discount depending on miles traveled
Good Student: Maintain a 3.0+ GPA, be in the top 20% of your class, or be on an honor roll or dean's list.
Driver Training Course: Complete another specific course before turning 21.
Discounts & Optional Coverages
Choose USAA if: you want good discounts.
Look elsewhere if: you aren't a military member.
Travelers: Cheapest Auto Insurance in Delaware

In contrast to the above picks, Travelers is a very affordable choice available to everyone.
Travelers' cost on average is $837 per year for people who need minimum coverage. That puts it well below the First State's $1,200 average for car insurance. Meanwhile, maximum coverage will knock $1,586 out of your wallet on average, which isn't too shabby, either.
But what else you get at Travelers, besides very low Delaware car insurance rates. Let's take a look.
Travelers has regular coverages such as collision, liability, and comprehensive, but the company offers more than that:
Roadside assistance
Rental car reimbursement
Accident forgiveness
Ridesharing
Gap insurance
New car replacement
Personal injury protection
And what about discounts? Here's an overview:
Multi-car
Early quote
Student away at school
New car
Hybrid/electric vehicle
Safe driver
Multi-policy
IntelliDrive program
Driving training course
Good student
IntelliDrive is a particularly fascinating discount program, one praised in many Travelers reviews. Travelers installs cameras and sensors in your car which track your driving. If you drive well enough, you can save up to 30% on your premiums.
Given that it provides such cheap car insurance in Delaware, Travelers boasts a rather diverse offering. On top of that, this organization has sterling financial strength, so it's very likely to meet your needs.
On the downside, Travelers doesn't seem to have stellar customer service. Based on many reviews we rifled through, we saw a few complaints about billing date mixups. We also noticed occasional gripes about the behavior of Travelers' agents.
We have to admit that these reviews slightly dampen the impression of this Delaware car insurance provider. All the same, if you want low rates, Travelers is one of the best options for you. It offers a comprehensive service for the price it asks so that you aren't taken for a ride.
Discounts & Optional Coverages
Choose Travelers if: you need cheap minimum coverage.
Look elsewhere if: amazing quality of service is your priority.
State Farm: Accessible Maximum Coverage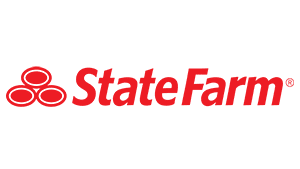 State Farm car insurance in Delaware offers a terrific blend of affordability and caring customer service.
The car insurance yearly bill of the typical State Farm user, amounts to $897. That's much less than Delaware's $1,200 average car insurance cost.
Moreover, State Farm's full coverage costs $2,086 per year on average, which is also affordable. If you intend to get full coverage for your vehicle, definitely consider State Farm.
Regarding coverage options for DE car insurance, expect the big three: liability, collision, and comprehensive. But besides that, there isn't much to speak of.
The company does have a few worthwhile policies we'd like to mention. For example, the company offers rental insurance. To be fair, this isn't quite unique. However, State Farm's rental coverage also includes paying for lodging, meals, and transportation if your vehicle breaks down.
Rideshare insurance is another interesting policy. It covers your work car if you're an Uber or Lyft driver. The odds are you'll need this form of auto insurance in Delaware if you work in this kind of company.
And what about discounts?
Multiple line
Good driving discount
Passive restraint
Steer Clear Driver Program
Accident-free discount
Driver training discount
Drive Safe and Save
Good student discount
Multiple auto
Anti-theft
Defensive driving discount
Vehicle safety
Student away at school discount
The selection is diverse enough, although not outstanding in any particular way.
But what makes State Farm stand out from the rest, beyond offering cheap auto insurance in Delaware, is its customer service.
Customers get dedicated agents to discuss their insurance needs. The company boasts 18,000 agents overall, way more than most companies. So State Farm customers are very likely to enjoy a personalized experience tailored to their financial capabilities.
This State Farm review mentions that the company also grants you an app that helps you track the particulars of your insurance. That makes the company appeal to the younger generations, as well.
Discounts & Optional Coverages
Choose State Farm if: you want cheap full coverage.
Look elsewhere if: you're a discount-oriented insurance shopper.
Cheap Auto Insurance in Delaware (Best Choices By City)
Car insurance in Delaware costs around $1,200 per year on average. However, this average doesn't apply to every county or city in the state. Some places in Delaware have cheaper or more expensive car insurance.
To give you a clearer view of the situation, we took quotes from a few Delaware cities. You can browse our findings below.
For reference, these numbers apply to a male, 30-year-old insurance applicant with a clean driving record.
Wilmington
Nestled at the Delaware and Christina rivers confluence, Wilmington offers a blend of urban and pastoral sights.
When on a break from looking for car insurance in Wilmington, DE, be sure to take a stroll along the scenic routes following these rivers. You can also visit the Delaware Art Museum or the Brandywine Zoo for a great day out in the countryside.
For those eligible, USAA is the most affordable car insurance alternative by a wide margin. On average, USAA customers in Wilmington spend around $641 per year.
If you don't qualify for USAA insurance however, you can turn to State Farm. State Farm's auto insurance in Wilmington costs $1,229 per year on average. Significantly more expensive than USSA, but still manageable.
Generally speaking, car insurance in Wilmington is more expensive than across the rest of the state. You can expect to pay anything from $1,358 to $1,607 per year on average, depending on your zip code in Delaware.
With that in mind, it's easy to see why the above picks are considered cheap car insurance in Wilmington, Delaware.
Dover
Dover is the capital of Delaware, and it's abundant with natural splendor. You can find much of this splendor in The First State Heritage Park. If you don't feel like basking in nature, check out the 1791 Old State House and Biggs Museum of American Art.
If Wilmington seemed expensive to you insurance-wise, Dover would seem even more.
For many in Dover, State Farm is among the cheapest providers of Delaware car insurance vehicle owners can opt for. This company charges around $1,440 per year. The next best thing would be Travelers, boasting a much higher rate of $2,340 per year.
Newark
Much like in Dover and Wilmington, greenery is part and parcel of living in Newark. That said, Newark is noticeably a smaller city of around 33 thousand people. Creeks, lakes, and forest trails dot the landscape, making the city a haven for nature lovers.
Now, about auto insurance in Newark, DE. It isn't exactly great here, either. State Farm is the least expensive company, yet again it charges an average of $1,692 per year. Nationwide is the second-cheapest pick, costing $2,616 per year on average.
Alternatively, you can opt for Travelers, but it will cost you as much as $2,616 yearly. Car insurance in Newark, DE is pricey despite the city's low population count, as it turns out.
Milford
With a humble population of 10,000 or so people, Milford is a seemingly sleepy town in the Delaware landscape. But it's packed with surprises at every corner, from hidden art galleries to stunning riverside restaurants.
Travelers and The General are the two most affordable car insurance providers in Milford. Respectively, they charge $2,268 and $2,424 per year.
Delaware Auto Insurance Laws
Before you consider getting car insurance at all, you need first to familiarize yourself with the relevant laws in Delaware.
Delaware Automobile Insurance Plan (DAIP)
Driving uninsured in Delaware can result in hefty fines. Without the appropriate documentation, you face a fine of up to $1,500 upon conviction. Getting caught a second time will cost you $3,000 for each repeated offense within three years of the last violation. You'll also lose your driving license/privileges for six months.
Delaware Minimum Auto Insurance Coverage Requirements
Here are the minimum requirements for car insurance in Delaware:
$25,000/$50,000 per person/accident for bodily injury liability coverage
$10,000 for property damage liability coverage
$25,000/$50,000 per person/ accident for uninsured motorist bodily injury coverage
$10,000 per accident for uninsured motorist property damage coverage
$15,000/$30,000 per person/accident for personal injury protection coverage
Price Optimization in Delaware
Luckily, Delaware officials have declared price optimization illegal for car insurance in Delaware.
For those who are not familiar with this, price optimization means that insurers subtly raise premiums to the car insurance quotes Delaware customers initially get. They add new policies or coverages based on their assessment of your spending ability.
Of course, this usually happens little by little without users being aware of what's going on behind the scenes.
Given the nature of price optimization, various states–including Delaware–have decried the practice. Not all states are on board, though. Thus far, only 20 states are decidedly anti-optimization, while the rest tolerate it to an extent.
SR22 Car Insurance Delaware
SR22 is a document that verifies your compliance with a given state's car insurance laws.
In most states, you need to produce this document when requested by a law enforcement official. If you don't, you put yourself at risk of paying fines or losing driving privileges.
As it turns out, Delaware is a rare exception to this rule. Namely, SR22 isn't a part of Delaware car insurance requirements. You don't need to have this document to be on the road legally.
But this doesn't mean the First State residents don't need insurance at all to take the wheel.
As we already mentioned, people driving without insurance risk fines of $1,500 or more. For every repeated offense, you have to pay a fine of $3,000. What's more, they could lose their driving privileges for up to 6 months.
The General Car Insurance in Delaware for New Residents
Are you a newcomer to Delaware? If so, you need to be aware of car insurance laws in the state relevant to new residents. So here's what you need to know.
Newcomers need to register their vehicles in person at a DMV office in Delaware City, Dover, Georgetown, or Wilmington. You have a 60-day grace period for registering a car in Delaware.
To register your vehicle and become eligible for car insurance, you'll need to hand in a few documents. Here's all the necessary documentation to get your license:
Your previously issued out-of-state driver license and/or identification card
Legal presence (birth certificate or passport)
Proof of social security number,
Proof of legal name change (if applicable)
Two proofs of DE residency
No-Fault Laws in Delaware
So cheap Delaware car insurance is hard to come by. But at least there's some comfort of knowing Delaware is a no-fault state.
Why some? Well, Delaware doesn't do no-fault laws the way most people expect.
You see, states with no-fault laws typically compensate you for damages and medical bills, as well as pain and suffering. But Delaware has a different model.
In the First State, the no-fault insurance referred to as PIP (Personal Injury Protection) covers damage/medical bills. However, it doesn't include compensation for pain and suffering. That said, you're allowed to file a lawsuit against the responsible party for the pain and suffering incurred.
How to Get Affordable Car Insurance in Delaware
As we've already established, car insurance doesn't come cheap in Delaware. But you should still strive to get the most affordable deal.
Here's how you can do precisely that.
Check Car Insurance Reviews
Delaware, much like other states, has a multitude of insurance companies to offer to its residents. Sure enough, some cost less than others, but not all of them are necessarily right for you.
So, if you want to find cheap auto insurance in Delaware, read reviews on the companies available in your area.
Car insurance reviews usually tell you everything you need to know. What is more, many sites have customer reviews that can give you invaluable insight.
Rifling through enough reviews will give you a pretty solid perspective on a company you're interested in. You'll know whether a particular insurer is right for you or alternatively
Compare Auto Insurance Quotes in Delaware
Perhaps the best method for finding the cheapest insurance is to "quote around." In other words, you should ask quotes from as many companies as needed. Also, feel free to get several quotes from the same company.
By doing this, you can reliably see which company offers the best deal based on your data (age, education, etc.). Thus, you'll zero in on the best Delaware car inspection insurance quotes companies can coax you with. Moreover, you won't be constrained to a single insurer that might not be objectively ideal for your needs.
Getting multiple quotes from one company provides an accurate estimate of how much it would charge you. Insurance companies create quotes based on a ton of data, but they aren't always completely accurate. By getting more quotes, you will come up with a more precise average.
See Which Delaware Car Insurance Companies Provide the Highest Discounts
Discounts are a great way to shave off costs. Depending on what policies you choose, you can significantly reduce your premiums.
Insurance companies understand the appeal of discounts to drivers. As such, they offer a slew of attractive deals worth your consideration. They might sound like a cherry on top, but they're vital to assessing the cost of an insurance plan.
Therefore, you'd be wise to check out Delaware auto insurance ratings and reviews for discounts. See what discounts insurance companies offer, how users become eligible for them, and how much they affect your premium.
You should keep in mind that some of these discounts come with requirements that you might not like. For instance, quite a few discounts demand you finish a course or attach cameras/sensors to your vehicle. Be sure you clearly understand the parameters of every discount before committing to it.
People Also Ask
Who has the cheapest car insurance in Delaware?
The cheapest car insurance in the First State depends on where you live.
State Farm and Travelers are, on average, the two cheapest car insurance companies in Denver. The former costs $897 per year, while the latter will cost you $837 per year. DE
Remember that these are averages, so these companies might not prove the most affordable for your needs. Different parts of Delaware have other companies available at different prices.
How much is car insurance in Delaware?
The average price for auto insurance in Delaware is $1,200. However, it ultimately depends on two factors.
The first factor is the company that covers your car insurance. For example, Nationwide's insurance plan typically costs around $1,468 per year, while Travelers charges an average of $837 per year.
The other factor that determines the price of your car insurance is where in Delaware you live. Some cities have more expensive auto insurance than others.
What type of vehicle insurance is required in the state of Delaware?
The minimum insurance requirements for driving legally in Delaware are as follows:
– $25,000/$50,000 per person/accident for bodily injury liability coverage
– $10,000 for property damage liability coverage
– $25,000/$50,000 per person/accident for uninsured motorist bodily injury coverage
– $10,000 per accident for uninsured motorist property damage coverage
– $15,000/$30,000 per person/accident for personal injury protection coverage
Who offers the cheapest auto insurance?
Travelers offers the cheapest car insurance in the First State. On average, Travelers' customers pay $837 annually for their insurance. That's quite a bit below the average of $1,200.
While Travelers cost the least on average, that doesn't mean this company is the cheapest for you. You should ask for quotes from as many insurers as you can. That way, you'll know whether Travelers or any other company is the most affordable for your circumstances.
Why is car insurance so expensive in Delaware?
Car insurance prices are high in Delaware for a variety of reasons. One of the reasons is the aging population. The average population age in the First State is 40.3, meaning there are many older drivers on the road.
Another factor that leads to pricey insurance in Delaware is its relatively high population density. The state houses roughly 506 people per square mile, making it the seventh most densely populated state. Finally, healthcare in Delaware costs more than in most other states.
All these factors combined, significantly contribute to the severe lack of cheap auto insurance in Delaware.