To help you find the Tennessee auto insurance that suits your needs perfectly, we compared quotes from all the major auto insurance companies in the state. We also ranked the best insurers using the most recent trustworthy ratings in financial strength and customer service.
Finally, we compared prices in the six most populous cities in Tennessee and then provided a complete guide on the state's car insurance laws. If you're looking for affordable, high-quality coverage in Tennessee, this is the right place to start your search.
The Best Auto Insurance in Tennessee
Overall Winner: Farm Bureau Insurance–Tennessee (FBIT)
Runner Up: Erie Insurance
Best for Its Variety of Discounts and Coverages: State Farm
Cheapest: Progressive Insurance
Best for Financial Strength: Geico
Best for the Military: USAA
The Overall Winner: Farm Bureau Insurance–Tennessee (FBIT)
---
Despite being a regional company, FBIT is the finest auto insurance provider in Tennessee. For starters, it passes J.D. Power's regional rankings with flying colors. In fact, it's the only company besides USAA to get the full five stars in the Tennessee region. Additionally, it offers the most competitive rates in TN, together with Erie and Progressive. Finally, despite being a smaller enterprise, it still has strong financial operations—A. M. Best assigned FBIT an "A+," the second highest rating possible.
The only reason not to choose FBIT is if you want a wider range of optional coverages and first-rate online tools. Other Tennessee auto insurance providers, such as State Farm, Allstate, and Progressive, can dazzle customers with various perks and options that only big companies can deliver. Compared to theirs, FBIT's website and coverage selection seem pedestrian. Still, if you're looking for a standard auto insurance policy, FBIT should be at the top of your list.
Choose Farm Bureau Insurance–Tennessee for outstanding customer service and affordable prices.
Look elsewhere if you want several optional coverages or advanced features.
Join
341 Drivers
Who Got a Quote Today!
Easy to Use
Safe & Secure
Best-Rated Car Insurance Companies
Assisting Drivers Compare Rates & Save Since 2017
or speak with an Agent by calling
The Runner Up: Erie Insurance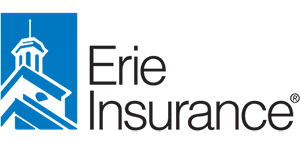 It's another smaller insurer taking the silver medal in our Tennessee rankings. Those looking for cheap auto insurance in TN should definitely give Erie a chance. The company offered the most affordable rates after Progressive and FBIT. And it's not only the low prices that make Erie an excellent choice. The company is ranked second in 2019's J.D. Power regional study for Tennessee region with four stars. On top of that, Erie holds an "A+" A. M. Best rating.
If you're looking for the best auto insurance in Tennessee, Erie is undoubtedly worth considering, but there are still some downsides. Erie, much like FBIT, underperforms when it comes to the variety of coverages it offers and how extensive its online tools are. For example, as we noted in our Erie review, the company doesn't even have a mobile app. Still, Erie offers the most common optional coverages and some relatively rare ones, like pet insurance.
Choose Erie for first-rate customer service and affordable prices.
Look elsewhere if you want various online tools.
The Best for Its Variety of Discounts and Coverages: State Farm
State Farm is among the more expensive auto insurance options in Tennessee, but for specific customers, it may be worth the extra outlay. For starters, it's the biggest auto insurer in the US, and in Tennessee, by market share. Such a strong presence enables State Farm to offer a wide variety of coverage options. These include rental car insurance, sports car insurance, and classic car insurance.
In addition to its many protection plans, State Farm offers the highest number of discounts in Tennessee: 13 total. On top of that, State Farm gets the highest possible rating from A. M. Best ("A++"), showing that its financial strength is second to none. Continuing with the positives, it earned an impressive four-star rating (and fifth place overall) in J.D. Power's rankings in the Tennessee region.
However, as we noted earlier, State Farm is among the most expensive TN auto insurance companies. That's why we can't universally recommend State Farm. Nonetheless, it's still an excellent option for those looking for specific coverage or the polished experience only big insurers can deliver.
Choose State Farm for its superior financial strength and various car insurance options.
Look elsewhere if you want an affordable insurer or highly rated customer service.
The Cheapest: Progressive Insurance
If cheap car insurance in Tennessee is your cup of tea, Progressive is your go-to insurer. The company offers the lowest premiums on average, although FBIT sometimes beats it. Additionally, Progressive specializes in high-risk drivers, meaning it won't overcharge them.
And it's not just the affordable prices that make Progressive an excellent choice. The company is an insurer with a long tradition and solid financial footing. That's confirmed by its A. M. Best rating, which is "A+." Additionally, Progressive has a quick quote system, and it offers many useful features. One such is the Name Your Price Tool. It lets you choose how much you'd like to pay for car insurance, and the AI offers the best coverage for you. You can also customize it to fit your needs.
The only notable downside of Progressive auto insurance in Tennessee is its sub-par score in customer service. The company gets only two out of five stars in J.D. Power's 2019 rankings. However, every insurer presents an inevitable compromise. If you want to pay less but still get all the benefits of a large company, give Progressive a chance.
Choose Progressive for its pocket-friendly rates.
Look elsewhere if you want the most reliable customer service.
The Best for Financial Strength: Geico
Geico is another insurer that we had to include on our list because it excels in multiple categories. It has an intuitive and sleek website and mobile app. You can use it to either download insurance documents or get a quick quote. Most importantly, it offers cheap car insurance in TN for different demographics.
However, it's financial strength where Geico stands out the most. Geico is a subsidiary of Berkshire Hathaway, which ranks fourth in the newest Fortune 500 list. Given this, it doesn't come as a surprise that it gets the highest possible A. M. Best rating, "A++."
However, Geico scores three out of five stars in J. D. Power's regional rankings — a performance that's just about average. Nevertheless, since Geico scores admirably in other important categories, we think many customers will be happy with it.
Choose Geico for superior financial strength and affordable prices.
Look elsewhere if you want the cheapest insurer or the most reliable customer service.
The Best for the Military: USAA
Our list of the best Tennessee auto insurance companies wouldn't be complete without USAA, which sells its products to active US military, veterans, and their close families only. It's our perennial winner in this category, placing well among the highest-rated companies in the US in every single department.
It gets the full five stars and the highest numeric rating in J.D. Power's regional and national rankings. Furthermore, it's among the more affordable insurers in Tennessee, and it offers many optional coverages and useful features. Finally, USAA has the strongest A. M. Best rating: "A++," or "Superior." For all these reasons, USAA should be the number one choice for those who qualify.
Choose USAA for excellent overall performance.
Look elsewhere if you aren't eligible for USAA coverage.
Cheap Auto Insurance in TN by City
Car insurance prices vary substantially depending on where you call home. To verify how much premiums cost in each city, we gathered quotes with full coverage limits from all the major insurance companies in Tennessee. Our vehicle of choice was a 2018 Honda Accord, and our annual mileage was 10,000.
Nashville
Tennessee's capital and its most populous city, Nashville is famous for its music history. Known as the hub of country music, it was also the place where Elvis recorded over 200 of his hit songs. The city is also the birthplace of Duane and Gregg Allman. Additionally, Nashville is the first town in the US to get an FM broadcasting license. Besides its contributions to American music, Nashville is home to Tennessee State University, Belmont University, Vanderbilt University, and Lipscomb University.
When it comes to cheap car insurance in Nashville, TN, Progressive stands out as the most affordable. However, we prefer Farm Bureau Insurance–Tennessee and Erie over Progressive. This is because they score substantially better in customer service while costing only marginally more. We'd also add Geico and Auto-Owners to our list of quote-worthy companies in Nashville.
Memphis
You may have heard the lyrics "Long distance information, give me Memphis, Tennessee" from Chuck Berry's song. Like Nashville, Memphis is renowned for its musical heritage, and it's often called the "Home of the Blues" and the "Birthplace of Rock and Roll." Elvis, B.B. King, Otis Redding, and Isaac Hayes all shaped the city's musical scene. Besides its artistic history, Memphis played a big part in the Civil Rights Movement.
When it comes to car insurance in Memphis, TN, FBIT is clearly the best option. It offers the finest customer service and the most affordable prices. We should just note that younger drivers will have to call the agent to get a quote—the online option is unavailable to them. Besides FBIT, Erie and Progressive are worthy options in Memphis.
Knoxville
Knoxville is the third most populous city in Tennessee, and it was the state's first capital. It's the birthplace of the iconic film director Quentin Tarantino, whose movies Pulp Fiction, Kill Bill, and Reservoir Dogs received widespread critical acclaim. The soft drink Mountain Dew was also born in Knoxville in 1940.
The best options for car insurance in Knoxville, TN, are FBIT and Erie since they offer the perfect combination of low prices and highly rated customer service. Progressive is also worth considering. It may not score in customer satisfaction as well as FBIT and Erie, but it offers all the benefits of a large insurer that the previous two companies lack.
Chattanooga
Chattanooga was immortalized in Johnny Cash's song "The Chattanooga City Limit Sign." It's home to many natural wonders such as Ruby Falls, a 145-foot-high underground waterfall that's located within Lookout Mountain.
Our overall narrative about Tennessee Car Insurance companies is also true in Chattanooga. Erie, FBIT, and Progressive are the most affordable. The first two are also the best rated in customer service, making them a fantastic choice for any driver in Chattanooga.
Clarksville
Clarksville was named after General George Rogers Clark, a Revolutionary War hero. History aficionados can enjoy its Customs House Museum and Cultural Center, which is Tennessee's second biggest museum, full of history and fine arts exhibits. If you're more of an outdoors person, Dunbar Cave State Park might be more appealing. It's a 110-acre park suited around Dunbar Cave, the 280th longest cave complex in the world.
When it comes to affordable auto insurance in Clarksville, Tennessee, Progressive and FBIT are the leaders, while Geico and Erie come in as a close second. Out of these companies, Erie and FBIT would be our first choices. We would also rank Geico ahead of Progressive, mainly due to marginally better scores in customer service and financial strength.
Murfreesboro
Murfreesboro must be the town with one of the quirkiest names in the US. It originally carried an even more complicated name—Murfreesborough—based on Revolutionary War hero Hardy Murfree. In 1812, the name was shortened to just Murfreesboro.
Those looking for an affordable auto insurance rate in Tennessee will be happy to know that Murfreesboro is among the cheapest cities in the state when it comes to car insurance. Farm Bureau Insurance–Tennessee is once again the most affordable, as well as the best overall option. Erie and Progressive also offer very reasonable prices, and they are a great alternative to FBIT.
Tennessee Auto Insurance Laws
Tennessee's Minimum Insurance Requirements
The minimum limits your policy needs to carry in Tennessee are relatively lenient, especially compared to places like Oregon. However, while you can save by opting for the minimum policy, we think getting higher limits is a smarter investment. Many cars nowadays are worth $15,000 or more, and medical expenses can easily exceed the $25,000 limit.
Nevertheless, nothing is mandatory besides liability insurance, which helps keep car insurance in TN cheap if you just want the basic coverage. To be precise, you'll have to have the following:
Bodily Injury Liability – $25,000 per person/$50,000 per accident
This coverage pays for the injuries you've inflicted on others in an at-fault accident (it may include other medical-related outlays, too, such as lost wages or burial expenses).
Property Damage Liability – $15,000
This covers any damage you caused to other people's property in an at-fault accident. Most often, that property is their vehicle, but it may also include personal belongings or stationary objects like fences and mailboxes.
SR22 Insurance in Tennessee
An SR22 certificate is a form that your insurance company has to fill out and send to the local DMV after a severe violation. It serves as proof that your auto insurance limits are adequate. You will probably need an SR22 form after driving under the influence, engaging in street racing, or inflicting bodily injury in an at-fault accident. Once you enter the program, the Tennessee government will track your driving record for three years, in accordance with the state's law. After that period passes, you'll be fit to repurchase regular auto insurance.
The majority of Tennessee auto insurance companies can provide an SR22 certificate. It's also worth noting that if five or more years have passed from the date of your suspension, you'll no longer need SR22.
Tennessee Automobile Insurance Plan (TNAIP)
If you're a high-risk driver, and a certain auto insurance company has rejected you in the last 60 days, you may enter the TNAIP program. If you do so, you'll be randomly assigned to an insurer, and they'll be obliged to provide you with coverage. Each Tennessee auto insurance company must participate in this program, taking on a number of high-risk drivers that's proportional to its market share.
However, if one or two insurers rejected you, it's still smart to shop around because the TNAIP rates will be much higher. We should also mention that if you want to purchase comprehensive or collision coverage, an insurer has the right to inspect your vehicle beforehand. Otherwise, they may deny you this protection plan. Additionally, if you've failed to pay your premium within the last 12 months, you'll be required to pay in advance.
Driving in Tennessee When You Aren't a Full-Time Resident
According to AAA's guide, Tennessee auto insurance laws allow non-residents from the US, Mexico, or Canada to drive up to 30 consecutive days without registering their vehicle in Tennessee. The same rule applies, but with a longer period of 60 days, for mobile home or house trailer owners. Military personnel on active duty are exempt from these regulations, meaning they may use home state registrations, and there's no need for them to buy Tennessee car insurance.
No-Fault Laws
Tennessee is an at-fault state, so liability insurance is the only mandatory coverage for medical expenses. In other words, the insurance of the driver who originally caused the accident must pay for your injuries up to the limits. If the damage is over the limit, you can either rely on your underinsured motorist coverage or sue the at-fault driver.
Additionally, you can add MedPay coverage to your car insurance policy in TN. It's a protection plan that pays medical expenses regardless of fault. Various MedPay limits are available in Tennessee, but the most common is $10,000.
Although the absence of no-fault insurance makes getting reimbursed for medical expenses more complicated, we think it benefits the Tennessee insurance market. Research into auto insurance prices suggests that the no-fault system substantially increases costs. The residents of Michigan have it the worst, due to the state's limitless no-fault system. It drives their auto insurance prices through the roof compared to the rest of the US.
Price Optimization
The Tennessee authorities haven't yet taken any action against the practice of price optimization. This means that auto insurance providers in TN can use non-underwriting criteria when determining rates. And according to recent research by Insurance Journal, almost 45% of the most prominent US insurers use price optimization software to calculate their prices. It estimates the maximum amount you'll pay for car insurance, and the company tries to charge you that exact price. There's no reward for loyalty—long-term customers are less likely to leave and will pay more on average.
That's why it's smart to shop around every now and then—you're letting your insurer know you're looking at what the competition offers. Knowing this, they'll provide you with their best deal to keep you as their customer.
Tips for Finding the Cheapest Car Insurance in TN
Make a Quote Comparison
There's more to comparing different offers at renewal time than just avoiding price optimization. Every insurance company calculates its premiums differently, meaning one driver may get vastly different rates depending on the insurer. Moreover, regional insurers like Farm Bureau Insurance of Tennessee tend to offer more affordable basic policies, while major players, like State Farm and Allstate, provide various perks and benefits, but at a higher price.
For all these reasons, the only way to get the cheapest coverage is to compare car insurance quotes from different Tennessee insurers. We would advise creating a shortlist of at least five insurers that seem good for you. Get quotes from all of them, and add a couple more if you don't like the results. The whole process shouldn't take more than one afternoon.
Study Car Insurance Reviews
It's a good idea to learn how each company scores in departments such as customer service and financial strength when you're comparing different Tennessee auto insurance companies. Our car insurance reviews will help you do just that. We researched every aspect, from customer satisfaction to discounts to optional coverages. After that, we ranked 24 of the most prominent insurers in the US. At our peril, we would even advise checking reviews from other leading websites, especially if you find a specific insurer appealing.
Check the Discounts
Taking full advantage of the available discounts is the surest way to get the cheapest auto insurance quotes in Tennessee. That's why you should always select all the car insurance discounts you're eligible for. If you're getting an online quote, that's just a couple of clicks.
If you communicate with an agent by phone, you'll need to put your game face on (or game voice, we should say), and insist that the agent list all the available discounts. Sometimes, it's even worth taking proactive measures—like enrolling in a defensive driving course or keeping good grades—to get even lower premiums.
People Also Ask
What should I expect when filing an auto insurance claim in Tennessee?
When filing a claim, it's essential to gather as much evidence as possible, but don't admit fault. To file a claim, you can either reach out to your agent directly or complete the process on the company's website. Once you provide all the relevant data, a claims department representative will contact you as soon as possible.
What is the Tennessee state minimum for auto insurance?
Bodily Injury Liability – $25,000 per person/$50,000 per accident
Property Damage Liability – $15,000
What constitutes full coverage insurance in TN?
There's no universal definition of full coverage. Instead, it represents an insurance plan that leaves you completely protected.
Our version of full coverage car insurance in Tennessee would include $100,000/$200,000 in liability limits for bodily injury and $50,000 for property damage. We would also add comprehensive and collision coverages, each with $500 deductibles. Finally, we'd select uninsured/underinsured motorist coverage with limits equal to the liability.
Is Tennessee a no-fault insurance state that requires PIP?
No, personal injury protection is neither mandatory nor available in Tennessee. This means it's the at-fault driver's liability that covers the medical expenses. Still, you can add optional MedPay coverage to your car insurance policy in Tennessee. It reimburses medical expenses regardless of who was at fault.
Does TN require uninsured motorist coverage?
No, uninsured/underinsured motorist coverage is not mandatory in Tennessee.
What happens if I get into an accident with an uninsured driver?
Since they don't have adequate insurance, you'll have to sue the driver to get reimbursed, presuming they were at fault. This can be a long and frustrating process. That's why it's smart to add uninsured/underinsured motorist coverage to your Tennessee auto insurance policy. It's inexpensive coverage can help a lot: Tennessee ranks fifth in the US when it comes to its percentage of uninsured drivers.