Car insurance in KY isn't quite the most affordable in the United States. On average, people in the Bluegrass State pay a little over $1,500 for their car insurance. That's right around the national average.
But that doesn't mean you can't get a great deal on your auto insurance in this state. That's what this guide aims to show you.
This post will outline the best car insurers in Kentucky. Moreover, it'll go over the most relevant laws and requirements about car insurance in this state.
The Best Car Insurance in KY
Farm Bureau: best overall
USAA: best for military members
The General: best for high-risk drivers
Progressive: best for discount variety
GEICO: best online/app capabilities
The Overall Winner: Farm Bureau
Farm Bureau offers the best overall service for Kentucky residents' car insurance needs.
One of this company's greatest strengths lies in its competitive prices. Its average insurance cost is $698 per year. If you're looking for full insurance coverage at Farm Bureau, you'll have to pay $2,099 annually.
The only big hangup you may have about Farm Bureau is its membership fee. To become eligible for this Kentucky Farm Bureau car insurance, you need to pay a $100 membership fee.
But that aside, Farm Bureau's auto insurance deals are superb.
Let's start with coverage options. Farm Bureau offers the basics – comprehensive, liability, and collision coverage. Beyond this standard policy, this company has a couple of add-on coverages.
One of these add-ons is replacement-cost coverage. This policy reimburses users when replacing their car with the same model. The model needs to be 4-5 years old.
Roadside assistance coverage is another coverage worth considering. This one covers the costs of emergency roadside assistance. That includes towing/pick-up services after a vehicle malfunction or accident.
Looking at Kentucky car insurance discounts Farm Bureau offers, we see a large arsenal of programs. Here's the selection:
Driveology
Smart pay
Safe young driver training
Continued in force credit
Member's choice
Affinity group
Claim-free
Low-mileage
Anti-theft
Multicar
Good student
We won't get into too much detail about each policy, but we'll highlight one.
Driveology, for example, entails the user installing data gathering devices on their car. These devices track how well the driver performs on the road. If they drive well enough, users can shave off up to 30% of their premium.
Policies like these are what make Farm Bureau's offerings the cheapest car insurance in KY.
Farm Bureau membership also comes with a few discounts not related to car insurance. These discounts can save you money on vacations, rental cars, hotel stays, agricultural equipment, prescriptions, and more.
Except for a few examples, Farm Bureau's discount options aren't all that groundbreaking. It's the quantity of them that makes this company so appealing.
Discounts & Optional Coverages
Choose Farm Bureau if: you're interested in the cheapest alternative that's still great.
Look elsewhere if: you want to avoid membership fees.
Join
341 Drivers
Who Got a Quote Today!
Easy to Use
Safe & Secure
Best-Rated Car Insurance Companies
Assisting Drivers Compare Rates & Save Since 2017
or speak with an Agent by calling
USAA Car Insurance: Amazing for Military Members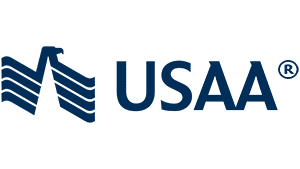 USAA is among the most popular and widely praised car insurance providers in the United States.
Unfortunately, not everyone can get to enjoy this company's services. To become eligible for USAA's insurance, you need to be a military member – active or veteran. Relatives of military members (such as spouses or parents) can also sign up with USAA.
As such, USAA won't be accessible for a lot of people interested in its car insurance.
That aside, USAA's service is very affordable, costing $744 per year on average.
When talking about coverages, USAA's KY car insurance truly shines in this respect. The company provides the basic ones: liability, comprehensive, and collision. However, it also has a fine roster of additional options. Here's what USAA can cover:
Accident forgiveness
Glass coverage
Rental reimbursement
Towing and labor
Rideshare gap protection
Car replacement assistance
Another perk of USAA is its gap insurance. This program pays the difference between prices incurred in total loss situations and the price of the car involved in said total loss.
Overall, USAA coverage options are great, though nothing stands out as particularly innovative. The USAA cheap auto insurance Kentucky residents can apply for is a great deal for its price.
The various discounts offered by this company are as follows:
Premier driver discount.
Automatic payments
Annual mileage
USAA's discount for driving research
Military installation
New vehicle
Family discount
Stored-vehicle discount
Good student
Defensive driving course
Driver training course
Some of these can significantly reduce your premium. For example, the stored-vehicle discount can save you a whopping 60% of your premium.
What truly sets USAA apart from the competition, however, is its customer service. The customer ratings and reviews of USAA KY car insurance are consistently positive. Business with this company is easy to do both online and in person.
However, we should highlight that USAA somewhat lacks brick-and-mortar locations. They're primarily around or on military bases, making them less accessible for many people.
Discounts & Optional Coverages
Choose USAA if: you want excellent customer service coupled with relations to the U.S. military.
Look elsewhere if: you have no direct ties to the U.S. military.
The General Car Insurance: Tempting Offer for High-Risk Drivers
On average, car insurance at The General costs $3,684 per year. As you may notice, that's a fair deal above the state's average.
But if you happen to be a high-risk driver, The General is an excellent pick for you. That's because its service is exceptionally forgiving to that demographic. This company's rates for, say, young drivers or those with poor driving records tend to be lower than at other insurers.
The General's list of coverage options for auto insurance in Kentucky is lengthy:
Deductible waiver
Accidental death
Optional basic economic loss
Liability coverage
Extraordinary medical benefits
Combination first-party benefits
Towing and labor
Uninsured motorist property damage
Loan/lease payoff
Comprehensive coverage
24/7 roadside assistance
Custom equipment
Medical payments coverage
Hospital indemnity plan
Transportation
Funeral benefit
Personal injury protection coverage
Collision coverage
Income loss
As you can see, the customization options are extensive. The discount options aren't as robust, though:
Paid in full
Military discount
Double deductible discount
Homeowners
Multicar
Previous insurance
Defensive driving
Passive restraint discount
Academic achievement
Though it doesn't offer the cream of the crop in terms of cheap auto insurance Kentucky drivers can get, The General's coverages and discounts can lower one's premium significantly given the right circumstances.
The General caters to a high-risk group of drivers. As such, it's more likely to pay off for you if you have an international license, for example. Alternatively, you should consider it if you've never had car insurance before.
Here is something else to consider. The General has a pattern of complaints from customers. Nine times out of ten, these have to do with delays in clearing claims or displeasing settlements.
On the other hand, The General is one of the few Kentucky auto insurance companies with high app integration. User scores for this app are consistently high.
Discounts & Optional Coverages
Choose The General if: you're a high-risk driver.
Look elsewhere if: you need cheaper insurance.
Progressive: Good Discount Selection
Progressive is a solid pick for car insurance in the Bluegrass State. It offers a wide range of intriguing coverages and discounts.
Moreover, Progressive's car insurance is reasonably affordable. The average cost of its services is $978 per year. That puts it well under the average price in Kentucky.
So Progressive offers pretty cheap auto insurance in KY. But you'll be surprised at the variety of policies you can enjoy under this company.
Of course, Progressive boasts the regular coverages, those being liability, comprehensive, and collision. Beyond that, the insurer has some policies, many of which this Progressive review praises.
For example, Progressive's pet injury policy covers your veterinary bill should your pet end up injured in your car accident. If that doesn't suit you, maybe the custom part/equipment compensation policy would be more to your liking. It provides $1,000 in compensation for buying aftermarket parts like stereos or grilles.
Here are other coverages Progressive's car insurance in Kentucky can offer you:
Liability coverage
Rental reimbursement
Uninsured/underinsured bodily injury
Comprehensive coverage
Gap insurance
Medical payments
Uninsured motorist property damage
Collision coverage
Moving on to discounts, Progressive's selection is diverse:
Multicar
Teen Driver Discount
Pay in Full
Homeowner
Snapshot
Continuous Insurance
Good Student
Start Your Quote Online
Safe Driver
Sign Documents Online
Automatic Bill Pay
Bundle Auto and Property
Most of these are self-explanatory, but we'd like to expound on one, that being Snapshot.
This policy involves an app or device that tracks your driving habits (driving speed, time of driving, etc.) and rewards safe driving. Policies like Snapshot make Progressive's otherwise cheap car insurance Kentucky even more affordable while encouraging good roadside behavior.
Finally, we should address a problem we found in Progressive's customer service. Some users have expressed frustration with long wait times when calling the company. We noticed some reviews regretting the time and effort taken to pay out a claim.
Beyond that, we didn't notice other patterns of misconduct on Progressive's part.
Discounts & Optional Coverages
Choose Progressive if: you'd like affordable, quality discounts/coverage.
Look elsewhere if: you want spotless customer service.
GEICO: Great Tech Integration
Offering cheap car insurance in KY, coupled with strong technical capabilities, GEICO is an attractive pick for the young and technologically inclined.
The typical GEICO client can expect to pay $1,184 per year for their car insurance premium. Though not the cheapest option on this list, GEICO still falls below the state average.
GEICO boasts numerous coverages. Outside the liability, collision, and comprehensive trio, GEICO offers the following:
Mechanical breakdown insurance
Medical payment/personal injury protection coverage
Emergency road service
Rideshare insurance
Accident forgiveness
Leased vehicle gap Insurance
Uninsured/underinsured liability coverage
Glass coverage
Rental reimbursement
Most people looking for cheap auto insurance Kentucky insurers offer will be pleased with GEICO's coverage selection.
In terms of discounts, here's what the company offers:
Military discounts
Multi-Policy discount (car or motorbike)
Multicycle
Pay-in-full discount
Defensive drivers discounts
Loyalty
Federal employee discount
Student discounts
Vehicle equipment discounts (daytime running lights, anti-theft, airbag, anti-lock brakes)
Mature riders
Safety first
Driving history discounts
Multicar discount
Membership and employee discounts
It's a solid arsenal for users to enjoy. But yet, it is just a standard selection, although it's still comprehensive.
As we already mentioned, another perk of GEICO's auto insurance in Kentucky is its tech availability. Someone signed up with GEICO can handle all matters related to their insurance without visiting its physical establishments. GEICO's app is the most powerful on the car insurance market. It's the company's main selling point praised in many GEICO reviews. However, this emphasis on virtual use stands in stark contrast to the somewhat lacking opportunities for in-person interaction with local agents.
Discounts & Optional Coverages
Choose GEICO if: you prefer online capabilities.
Look elsewhere if: you'd like more in-person service.
Cheapest Car Insurance in Kentucky (By City)
Having taken a look at the best overall car insurers in Kentucky, let's get a little more specific. We'll examine the best insurers in a few key cities of the Bluegrass State.
To get these estimates, we have asked for quotes from the most prominent companies offering their services in these cities. The quotes we received fit the typical 30-year-old male driver with a spotless driving record driving a 2012 Honda Accord.
Car Insurance Louisville KY
The biggest city of Kentucky, Louisville, has long-standing ties to horse racing and baseball. The annual Kentucky Derby hosted at the Churchill Downs track is the main draw for horse racing enthusiasts.
How much you pay for car insurance in Louisville varies considerably based on the company you choose. With the above reference profile, you could end up spending anything between $1,500 and $5,000 annually.
Progressive seems to be the best pick for cheap car insurance in Louisville, KY, costing $1,584 per year. The second most affordable alternative is Travelers, though a notably more expensive one. Travelers' car insurance plan costs $2,580 per year on average.
The third-best option is State Farm. However, this company's offerings are even pricier. This insurer charges an average of $4,092 per year for its services.
Finally, there's The General. On average, people matching our reference profile pay $4,824 annually for this company's insurance in Louisville.
Auto Insurance Lexington KY
Whereas Louisville is known for racing horses, Lexington has a reputation for breeding them. Much of the city's cultural landscape relates to horses, to which anyone visiting the International Museum of the Horse can attest.
The average cost of car insurance here is $1,689 per year, making it a little expensive for this state. However, the best pick for cheap car insurance in Lexington, KY, is State Farm. Its average annual rate is an admirable $1,021 per year. Kentucky Farm Bureau is just a smidgen pricier, costing $1,056 per year.
GEICO is another good option for cheap insurance. The typical GEICO car insurance plan costs $1,115 per year. You can also opt for Liberty Mutual or Progressive, but their rates are significantly more expensive. Liberty Mutual and Progressive's car insurance in Lexington, KY, costs $1,757 and $1,928, respectively.
Bowling Green
Situated in Southern Kentucky, Bowling Green boasts a population of around 67,000. Car racing is an essential part of life here. One need only visit the National Corvette Museum or attend the Beech Bend Raceway drag races to confirm that notion.
Progressive is the most affordable alternative for most Bowling Green citizens. The typical cost of Progressive's car insurance in Bowling Green, KY, is $876 per year.
State Farm and Travelers provide relatively cheap car insurance, too. However, they charge noticeably more than Progressive. The former costs $1,620 per year on average, while the latter costs $1,776.
Hopkinsville
Hopkinsville is a veritable treasure trove of natural splendor. The city is home to 112 acres of parks and spaces for recreation purposes. If you're a fan of anything from hiking and biking to scuba diving, Hopkinsville is just the ticket.
Hopkinsville generally has much lower rates compared to the average price of car insurance in KY. For example, Progressive costs a mere $480 per year. Allstate is the next best choice, though it costs around $1,320 annually on average.
State Farm's car insurance is another alternative in Hopkinsville, though its prices veer toward the state average. State Farm's services typically cost around $1,536 per year.
Paducah
Paducah is the county seat of McCracken County, and it has a population of around 25,000. It sits right on the Ohio and Tennessee rivers' confluence and sports a lovely mix of forestry and riverside vistas.
The cheapest KY auto insurance in Paducah lies with Progressive. This company's price for car insurance costs as little as $492 per year on average. Meanwhile, State Farm, the second-cheapest insurer, costs $1,836 per year. Travelers' cost is $2,040 annually on average and is the third most affordable company in Paducah.
Radcliff
Radcliff is home to a diverse community, a point of pride for the city. Its many ethnic restaurants are a significant draw. Among many others, people in Radcliff can relish Chinese, Mexican, German, and Japanese cuisine.
Progressive provides the cheapest auto insurance in KY's most diverse town. On an annual basis, Progressive's car insurance premiums cost around $540 on average.
Allstate offers the second-lowest price, though it's hardly as affordable. Its services cost $1,488 per year on average. If you'd go for another insurer, consider State Farm, whose average car insurance price is $1,992 annually.
Travelers and Liberty Mutual are the two remaining options, and they cost $2,280 and $2,856 per year, respectively.
Kentucky Auto Insurance Laws And Regulations
Now that you've got a good idea of who provides good car insurance in the Bluegrass State: let's talk law. As a driver in Kentucky, you should understand and abide by the state's car insurance regulations.
We'll cover a few key topics you must know before hitting the Kentucky roads. It entails minimum car insurance requirements, SR22 laws, and price optimization, among other things.
Kentucky Automobile Insurance Plan (KAIP)
Kentucky has a car insurance plan, but the KAIP program doesn't handle claims. To qualify for KAIP, you have to:
Provide proof you've been refused vehicle insurance up to 60 days before the application
Give a premium deposit
Have a driving license (active, suspended, or revoked)
Keep residence in Kentucky
Prove the vehicle you want to insure has Kentucky registration
Should you find a better deal than what KAIP provides for you, you can cancel your policy. Moreover, KAIP will reimburse you for the unused remainder of your premium.
Minimum Kentucky Auto Insurance Requirements
Here's the minimum Kentucky law requires of your coverage:
$25,000 per person for liability coverage (bodily injury)
$50,000 per accident, liability coverage
$25,000 per accident for property damage
A driver's car insurance has to include all the basic reparations benefits. Motorcycle insurance is the only exception to that rule.
Price Optimization in Kentucky
For those who don't know, price optimization is the practice of insurers hiking your prices based on data like online behavior or the educational stage. Your premium could grow without you even being aware of why it's happening.
Kentucky car insurance laws don't prohibit price optimization, and state officials haven't voiced their opinion on the practice.
So, as regulation is still not in sight, it's up to the individual to safeguard against price optimization. The best way to do so is to shop around for quotes. Your insurer's data tracking will notice your interest in their competitor and likely won't dare raise your premium.
SR22 Insurance in Kentucky
The laws on automobile insurance in Kentucky don't demand that drivers carry SR22 insurance. Therefore, you aren't required to present an SR22 document, even if you have something like a DUI case on your record.
But if you've been found guilty of DIU, you can find yourself liable to a range of penalties, including:
Up to 12 months in prison
Community labor lasting up to 12 months
Fine of up to $1,000
License suspension of up to 36 months
Enrolling the Ignition Interlock Device Program
Cheap Car Insurance in KY for New Residents
Newcomers to Kentucky need to obtain a driving license in 30 days. To do so, they need to satisfy the following criteria:
Provide your social security card and out-of-state license to the Circuit Court Clerk's office (photocopies are not accepted).
Present a School Compliance Verification Form signed by your former, out-of-state school (if you're under 18).
Transfer your permit to Kentucky before applying.
Kentucky No-Fault Laws
This state is a no-fault car insurance state. Kentucky auto accident laws allow drivers in an accident to file a claim for medical and property expenses with their own company. All involved parties get benefits from their insurer, whether or not they're responsible for the accident.
Lost wages, medical expenses, and other liabilities get paid through the Personal Injury Program (often abbreviated to PIP). The most basic PIP covers up to $10,000 in lost wages, medical expenses, and survivor's benefits.
How to Get The Best Auto Insurance in KY
We all want the best yet cheapest deal possible. That isn't easy to pull off, but we have a few tips to improve your odds. With the below advice, you'll considerably boost the likelihood of striking that perfect balance between affordability and quality.
Check Auto Insurance Reviews
When an insurer states they're the best bar none, don't just take their word for it. Better see what other people, laypeople, and experts alike, have to say.
Reviews for car insurance companies in Kentucky give you a more accurate insight into how good certain insurers are. So don't commit to any decision before thoroughly sifting through reviews.
Be sure to check out multiple reviews of the same companies. Some reviewers tend to be biased for one reason or another. It is why it's vital not to rely on a single review, as you could be reading information skewed to favor a specific insurer.
Compare Car Insurance Quotes in KY
In case you found a car insurance provider that reviews praise to high heaven. But even if the company provides fantastic service, it doesn't mean it's the best for you.
Luckily, you can check if a company suits your profile by asking for a quote. Get as many quotes as possible for a more accurate prediction of what an insurer would charge you.
There's no reason not to shop around for free quotes from other companies, too. Feel free to take as many auto insurance quotes in KY as you need.
Determine Who Provides the Best Discounts
Discounts can considerably lower your premium given the right circumstances. If you're eligible, you can pick policies that make a previously expensive premium almost trivially cheap.
So don't make the mistake of ignoring discounts when searching for the right car insurance company for your needs.
Carefully examine the discounts insurers offer and find the terms under which you can be eligible for them. For example, some discounts apply only to drivers with solid KY driving records.
Once you've parsed out what discounts agree with your needs and which ones you're eligible for, you should decide whether said discounts outweigh any potential downsides of the company that provides them. If they do, then you've probably found the ideal insurer for you. If not, then you'd be better off taking your business to another company.
People Also Ask
Who has the cheapest car insurance in KY?
On average, Kentucky Farm Bureau provides the cheapest car insurance premiums. The typical Farm Bureau customer pays $698 per year for this company's services.
Progressive offers the cheapest auto insurance in quite a few major Kentucky cities. For example, Paducah residents typically pay around $492 per year, far less than other companies in the city charge.
Meanwhile, military members and their direct relatives should consider opting for USAA if they want an affordable premium.
How much is car insurance per month in Kentucky?
The monthly price of car insurance in the Bluegrass State depends on multiple factors. The most decisive ones are the place in the state you live in, the company you made your insurance under, and your data.
However, the state's average cost for Kentucky's automobile insurance is around $125 per month. That translates into $1,500 per year.
Larger cities tend to have pricier car insurance. For example, Louisville citizens may have to pay between ($1,500 and $5,000 annually) for their insurance.
Why is Kentucky auto insurance so expensive?
Though not exorbitantly expensive, Kentucky's car insurance does cost more than in many other states. It is down to many complicated reasons.
One major factor is the state's high car crash fatality rate. In 2019, 732 people died in auto crashes. Another contributor to Kentucky's high car insurance rates is the state's relevant laws.
For example, Kentucky drivers usually need to have Personal Injury Protection. PIP is typically more expensive than standard liability coverage.
How much does car insurance cost in Kentucky?
In Kentucky, the price of vehicular insurance is very near the U.S. average. That means the typical Kentucky customer pays $1,500 per year.
Of course, this average doesn't apply evenly across the entire state. For example, car insurance in Louisville is considerably more expensive than in Radcliff. Multiple factors, ranging from population size, density, and age to fatal crash statistics, determine the price.
How much car insurance do I need in Kentucky?
The following are the minimum requirements for Kentucky car insurance coverage:
$25,000 per person for liability coverage (applies to bodily injury)
$50,000 per accident for liability coverage
$25,000 per accident for property damage
A driver's car insurance plan must also include basic reparations benefits. However, drivers who want to make insurance for their motorcycles don't need to have these benefits.
How Does Kentucky Car Insurance Rank with the Other States?
Kentucky's car insurance prices are right around the national average, which costs about $1,500 per year.
As such, Bluegrass State's auto insurance costs are middling overall. To compare, New Hampshire, Ohio, and North Carolina are the most affordable states in this regard. These three have approximately 40% cheaper car insurance than the U.S. average.
On the other side of the spectrum, Florida, Louisiana, and New York are among the most expensive states for auto insurance. Their costs are often double the typical cost of car insurance in KY.