Are you looking for the cheapest car insurance Nova Scotia drivers can buy?
You are at the right place. We reviewed more than two dozen car insurance companies, both national and regional, on multiple factors and ranked them accordingly.
However, that's not all we did. We also determined the top performers in three major Nova Scotia cities: Halifax, Cape Breton, and Truro.
Furthermore, we have demystified Nova Scotia's auto insurance laws and come up with a list of practical tips that help you shave off as much as 60% of your annual insurance premium.
The Best and The Most Affordable Car Insurance in Nova Scotia
TD Insurance — The Overall Winner
RBC — The Best for Customer Service
Intact — The Best for Carsharing
The Overall Winner: TD Insurance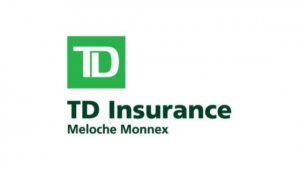 TD Insurance certainly lives up to its image of a low-cost car insurer in Nova Scotia. At $96 a month on average, its premiums are the cheapest, by far, thus making it a perfect fit for all those looking for budget auto insurance in Nova Scotia.
The best part is that TD Insurance offers a slew of discounts, especially to good drivers, to go along with its pocket-friendly rates. For instance, the insurer takes 10% off your deductible for every claim-free year. You can also take advantage of its usage-based savings insurance program. TD MyAdvantage, which lets you save as much as 25% on car insurance by demonstrating safe driving behaviours.
However, affordable policies are not the only reason why we have ranked TD Insurance above other Nova Scotia insurance companies. It performs reasonably well in other departments and it has no glaring weakness.
For instance, its online tools are pretty solid and claims-handling process smooth and quick. It is also in good health financially, with both Moody's and S&P rating its outlook as "stable". This indicates that you can count on TD Insurance to not look for excuses when you file a claim. As far as customer service is concerned, TD Insurance's record, while not the best among auto insurance companies in Nova Scotia, is quite reasonable.
All in all, robust financial health, splendid online tools, and a price point that shows seriously good value for money make TD Insurance a winner in Nova Scotia.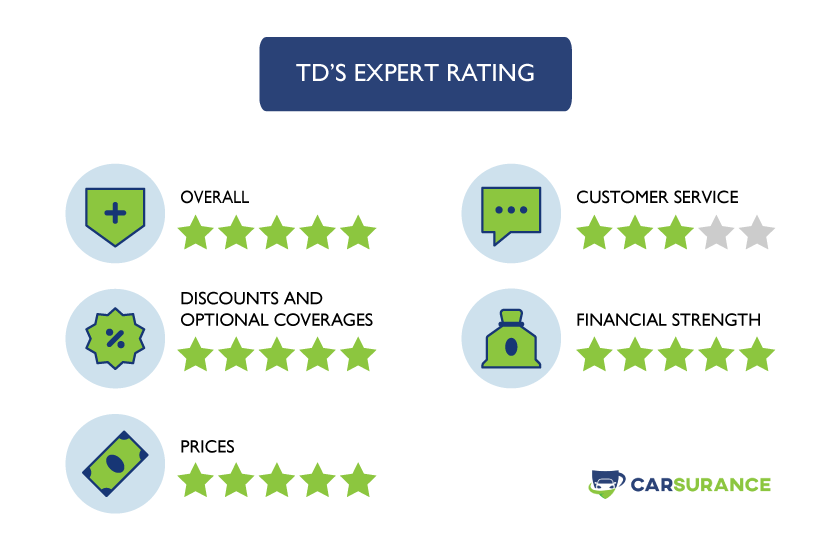 Choose TD Insurance if you want the most affordable car insurance, solid financial strength, and fine online tools.
Look elsewhere if you want top-shelf customer service.
The Best Customer Service: RBC
If customer service, not affordability, is the most important factor for buying car insurance for you, RBC should be at the top of your list of insurance companies in Nova Scotia. It boasts an impressive record in 2019 J.D. Power's Canada study and even has several others aces up its sleeves.
For instance, RBC offers several value-added features that few other Canadian auto insurers can match. A case in point is its "anonymous claims advice" feature, which lets you receive expert advice for free and anonymously if you are not sure whether you should file a claim.
RBC also impressed us with its range of optional auto insurance coverages in Nova Scotia, which includes loss of use coverage, accident forgiveness, depreciation waiver coverage, and more. Regardless of your auto insurance needs, you can expect the insurer to provide you with the exact coverage you need.
Strong financial health and a huge selection of discounts are other standout features. A.M. Best gave it an "A" rating, indicating a strong ability to pay claims, and just like TD Insurance, RBC offers Nova Scotians a number of ways to save on insurance.
However, RBC's protection comes at a price and a steep one at that. At $242 a month on average , its auto insurance quote in Nova Scotia is the second-most expensive in the province. However, if you don't mind the extra outlay in exchange for top-level customer service and some innovative features, RBC is definitely worth a shot.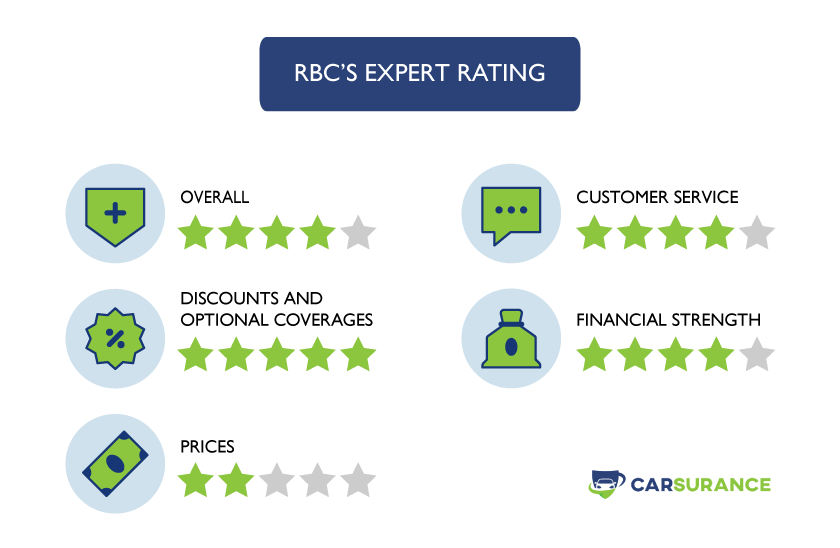 Choose RBC if you want quality customer service and novel features.
Look elsewhere if you are looking for affordable car insurance.
Best for Car Sharing: Intact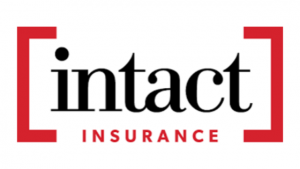 Does your car stay cooped up in the garage for a big part of the day? Do you want to turn its parked time into paid time?
If yes, look no further than Intact, the last name in our list of top 3 auto insurance providers in Nova Scotia.
Intact makes it easier for you to use Turo, an online peer-to-peer car rental system that lets you rent your car to whoever and whenever you want. Intact's Turo commercial insurance offers protection while you're dropping your car off to the renter and during the rental period. When you use the vehicle for personal use, you'll be covered under your personal Intact insurance.
However, Intact is just not for Turo users. It is also a good option for all those looking for cheap auto insurance in Nova Scotia. With the average monthly premium of $137, Intact delivers quite a bargain.
And who else should add Intact to their shortlist?
Well, for starters, all the Uber Eats drivers in Nova Scotia.
If you drive for Uber Eats and have taken personal insurance from Intact, between Uber commercial policy and your personal Intact insurance, you'll be protected all the time.
Besides providing an affordable car insurance quote in Nova Scotia and offering car-sharing and ride-sharing coverages, Intact is in a splendid shape financially. A.M. Best, a US-based rating agency, awarded it the second-highest rating with "A+". In other words, Intact will not leave you up the creek without a pedal when you file a claim.
However, Intact's record in customer service is spotty. But if you can live with that, it is definitely an appealing option.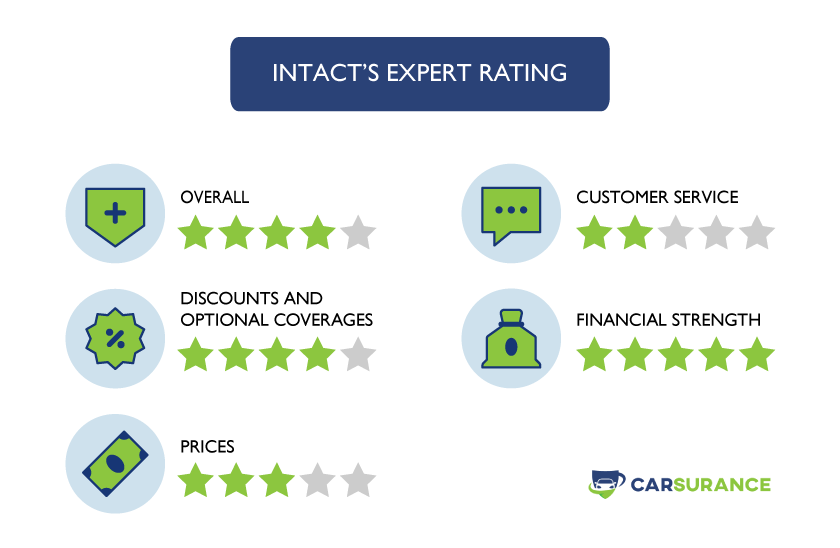 Choose Intact if you want to use Turo or are an Uber Eats driver.
Look elsewhere if you are looking for quality customer service or the most affordable car insurance.
Nova Scotia Auto Insurance (By City)
As is the case in other provinces, some cities in Nova Scotia are considerably costlier for car insurance than others. For instance, drivers in Halifax pay 12.5% more than car owners in Truro.
To find out how much you will have to shell out to get your car insured in three major cities — Halifax, Cape Breton, and Truro — we gathered quotes from all the important players in the auto industry. Our quotes included full coverage limits while our referenced driver was a 40-year-old single male driving a 2018 Honda Civic with a clean driving record.
Car Insurance in Halifax
Halifax, the provincial capital of Nova Scotia, is an Atlantic Ocean port with a population of more than 400,000. It has developed into a major business center and is a great place to live and work, thanks to its reasonably high average income and laid-back and friendly vibe.
Compared to other cities in the province, drivers in Halifax pay more for car insurance. That said, there are many providers offering cheap car insurance in Halifax. Let's find out all about them.
Best for 21-Year-Olds
At $382 a month, young drivers in Halifax pay exactly double that of experienced drivers. This, however, is not surprising, since car insurance companies consider them high risk. Research also shows that young drivers have a higher accident rate compared to mature drivers.
That said, this doesn't mean you need to break the bank to get dependable coverage. Several Halifax car insurance companies provide protection to young drivers at reasonable prices, such as RBC and TD Insurance. You can also add Intact to your list if you are interested in using Turo or driving for Uber Eats, but its premium is a little on the steep side.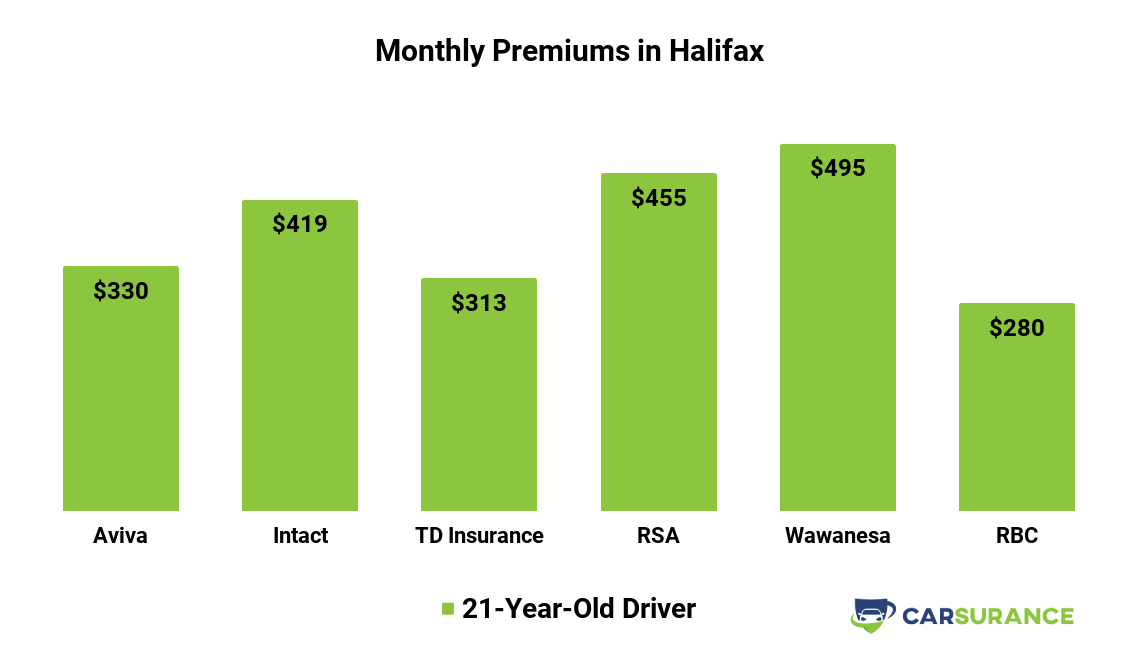 Best for 40-Year-Olds
If you are an experienced driver and looking for lowest-cost car insurance in Halifax, it's hard to look past TD Insurance. As per our Nova Scotia car insurance calculator, its monthly premium of $103 is as much as 46% lower than the city's average.
Another good option for budget buyers is RSA, with a monthly premium of $120. However, mind you, RSA doesn't feature in 2019's J.D. Power Canada study while TD Insurance's record is just about average. If you want better performance and are ready to pay more, consider RBC.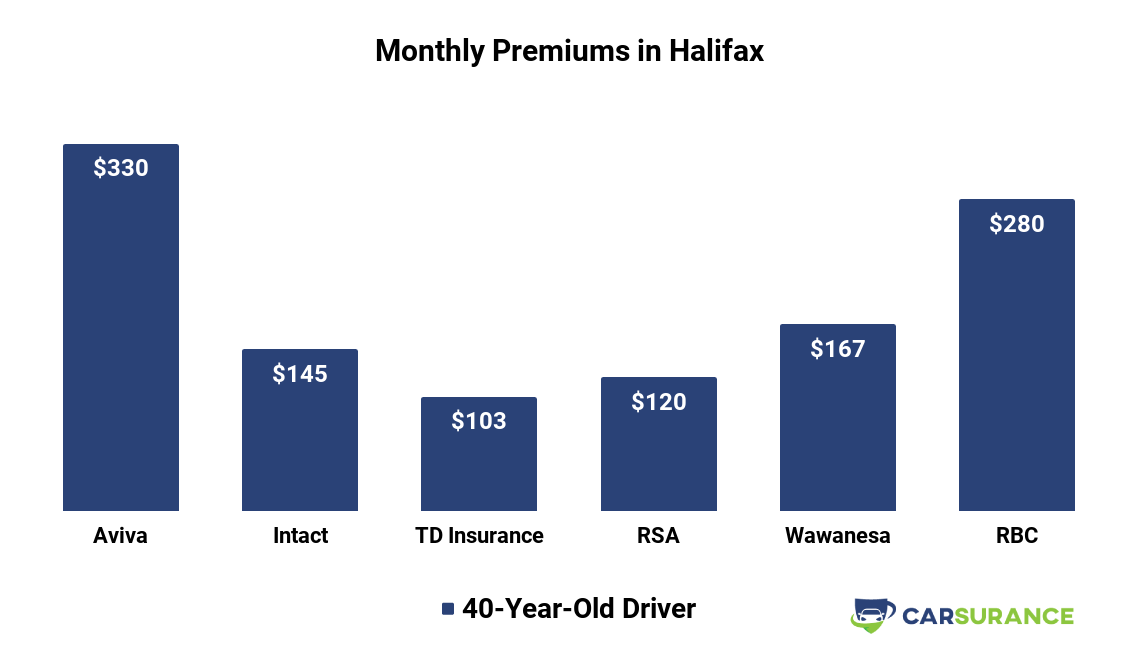 Best for 70-Year-Olds
Senior citizens looking for dirt-cheap auto insurance in Halifax would do well to start their search with RSA. At $99 a month, its premium is roughly 44% cheaper than the city's average.
Other insurers that provide cost-effective car insurance to this age group include TD Insurance ($101/month), Intact ($120/month), and Wawanesa ($126/month). However, none of them excels in the customer service department. If that's important for you, RBC might just be right for you.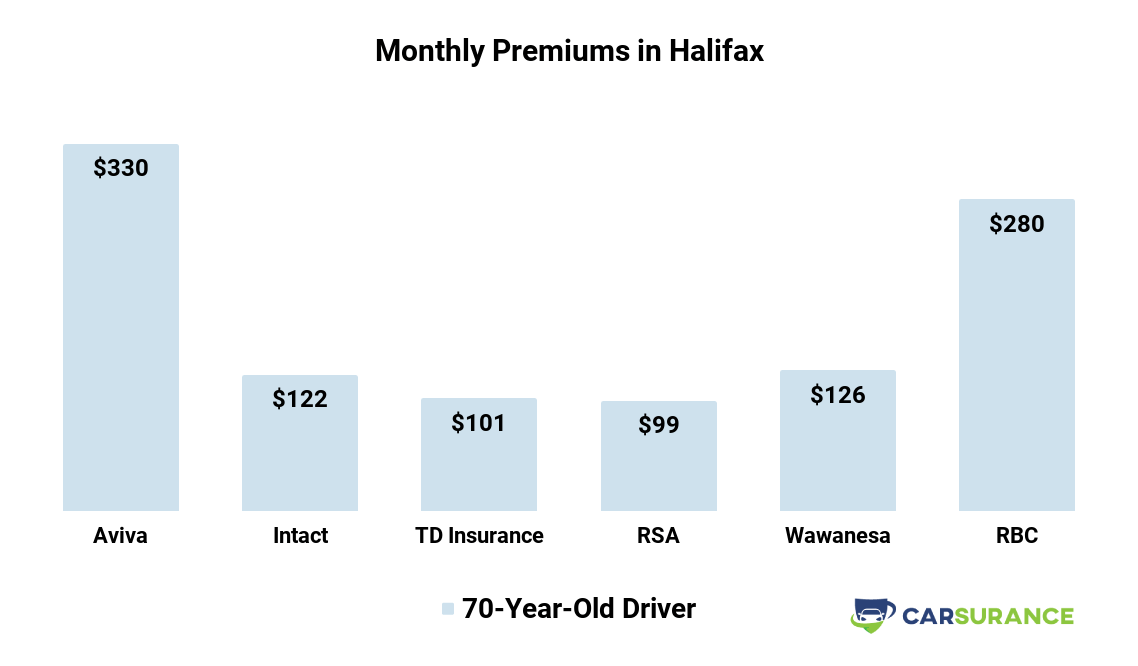 Car Insurance in Cape Breton
Located at the eastern end of Nova Scotia, Cape Breton Island is rated as one of the best islands in all of North America by Travel + Leisure magazine. Cape Breton is famous for its circuitous coastal road, the 300-km long Cabot Trail, which offers breathtaking coastal views and highland scenery. The island is also known for its rich Celtic and Acadian heritage and music festivals.
As per Nova Scotia quotes gathered by us, TD Insurance is the most affordable insurer in Cape Breton by a mile. At $96 a month, its premium is less than half of the city's average and a quarter cheaper than its immediate competitor's.
Other insurers offering pocket-friendly insurance products in Cape Breton include RSA, Intact, and Wawanesa. However, treating customers well also matters, and none of these players have an impressive record in customer satisfaction. That's why, potential buyers should also add RBC to their list, even though its insurance quote in Cape Breton, Nova Scotia is the second-most expensive.
Car Insurance in Truro
Home to over 12,000 residents and a flourishing business community, Truro is popularly known as the "hub of Nova Scotia." Located at the head of the Salmon River, Truro has been ranked as one of the best cities to live in the country, according to Chatelaine magazine.
Auto Insurance in Truro, Nova Scotia, is the cheapest in the province, with an average monthly premium of $167. TD Insurance emerged as the least expensive insurer, but you should also consider RSA and Intact. RBC, on the other hand, can be a viable option for all those who want top-rated customer service.
Nova Scotia Car Insurance Rules and Regulations
Institutions that Regulate Auto Insurance Rates in Nova Scotia
In Nova Scotia, the Office of the Superintendent of Insurance enforces the Insurance Act and regulates the insurance companies. The individual insurers set car insurance rates, which are then reviewed and approved by the Superintendent's office.
Additionally, the Nova Scotia Insurance Review Board (NSIRB) also checks rate filings to make sure they are in line with the province's regulations. NSIRB does the all-important job of protecting the public interest by ensuring car insurance rates in Nova Scotia are just and fair.
Factors that Influence the Price of Car Insurance in Nova Scotia:
Multiple factors impact your auto insurance rates. Here are the top six determiners.
Driving Record — As far as auto insurance companies are concerned, a driver's past is an accurate predictor of their future performance. Therefore, a history of driving tickets or traffic violations will push your premium up.
Age — Young drivers, especially teens, are far more likely to crash than experienced drivers. Therefore, if you are under 25, expect to pay more for car insurance in Nova Scotia.
Location — Where you live or drive impacts your car insurance rates. Generally speaking, the premiums are higher for densely populated areas, since they tend to have a higher rate of road accidents, theft, and vandalism.
Claims History — Auto insurance companies view drivers with a long claims history as more risky and tend to charge them extra for coverage.
Car make and model — Insurance companies in Nova Scotia quote a higher rate for cars that are expensive to repair or replace if you are buying collision and comprehensive coverage. Generally speaking, if you own a brand new expensive car, you'll have to shell out more for your policy.
Usage — As a rule of thumb, the more you drive, the greater the risk of a road accident. Car insurance companies take your annual mileage into account while calculating your premium.
How Nova Scotia Car Insurance Prices Compare to Other Provinces
Nova Scotia drivers have it good. They pay some of the lowest premiums in Canada on average.
For instance, according to one online study, the average monthly car insurance premium in the province is $91 per month. That is almost 17% lower than the national average and, believe it or not, 43% cheaper than the Ontario average, one of the costliest provinces for car insurance.
Minimum Nova Scotia Auto Insurance Policy
Nova Scotia drivers must carry $500,000 in third-party liability coverage, which protects them in the event they cause injury or death to another party. Without this minimum coverage, you can't register your personal vehicle in the province.
In addition to third-party liability coverage, accident benefits and uninsured automobile coverages are also mandatory in Nova Scotia.
Accident Benefits coverage provides compensation if you or your passengers are injured or killed in an accident, regardless of fault. Whereas, uninsured automobile coverage, the last section included in the mandatory Nova Scotia insurance policy, offers protection if you or your passengers are hurt or killed in a crash caused by an uninsured motorist. It also pays for your repairs, provided you are able to identify the at-fault uninsured motorist. 
However, mind you, Nova Scotia's minimum car insurance may not always be enough to cover the damages, especially if you have a serious accident. Therefore, instead of buying the cheapest, bottom-of-the-barrel insurance you can get, try getting the coverage that protects you and your assets, even if it means a little extra outlay every month.
Nova Scotia Car Insurance System
Nova Scotia has a no-fault auto insurance system. This basically means you will deal with your insurer and the other party with theirs, irrespective of who was at fault.
Other provinces that have this kind of car insurance system are Ontario, New Brunswick, and Prince Edward Island. One of the main advantages of the no-fault system is that it reduces administrative costs and simplifies the process. As a result, your claims get processed faster.
How to Get High-Quality and Cheap Car insurance in Nova Scotia
Check Car Insurance Reviews
No single car insurance company can excel in all ranking factors. That is why, we recommend that you check how different insurers perform on factors most relevant for you, besides considering their overall ranking.
Of course, this guide, with its list of best-rated auto insurers in Nova Scotia, help you with just that. But what if you want to look at more options before buying car insurance in Nova Scotia?
Well, this is where our Canadian car insurance rankings can make a difference. We reviewed top companies and ranked them based on their performance on several important ranking factors: price, optional coverages, discounts, online tools, availability, financial strength, and customer service. In other words, we can help you find the right auto insurer regardless of how selective you are.
Compare Car Insurance Quotes
Do you compare quotes from different providers before renewing your auto coverage?
If not, you might be making a mistake.
Car insurance companies often revise their pricing depending on their performance, so it's very much possible that your last year's most affordable Nova Scotia car insurance provider might no longer be the cheapest this year.
Get the Most Out of Discounts
The most effective way to save on car insurance is by taking advantage of all the discounts available to you. When you gather a quote online, this is easy, since the system automatically tacks on all available discounts. If you are purchasing insurance through an agent or broker, remind them to apply all discounts for which you qualify.
People Also Ask
How much is auto insurance in Nova Scotia?
The cost of auto insurance depends on various factors, such as age, driving experience, claims history, location, coverage type, and more. As per our research, the average monthly premium for a full coverage policy is $181. Our referenced driver was a 40-year-old single male driving a 2018 Honda Civic averaging 15,000 km a year.
What does PLPD cover in Nova Scotia?
PLPD refers to "Public Liability and Property Damage." It covers injuries and damages you may cause to others while driving. Still, it doesn't cover damages to your vehicle in case of an accident. In other words, if you only take PLPD car insurance in Nova Scotia, and no additional coverages such as collision or comprehensive, insurance will not pay for damage to your car.
Is usage-based insurance available in Nova Scotia?
Yes, it is. In 2016 Nova Scotia introduced usage-based insurance (UBI) coverage that allows auto insurers in the province to set premiums based on how you actually drive rather than how they think you may drive. So contact your insurance broker in Nova Scotia for a UBI quote and start saving on car insurance by demonstrating safe driving behaviours.
Who offers the cheapest auto insurance?
With an average monthly premium of $96, TD Insurance offers the most cost-effective car insurance in the entire province.
What are the penalties for driving without insurance in Nova Scotia?
First-time offenders will have to pay a fine of $2000 to $4000. If you are caught a second time, you could be staring at a minimum $3000 fine (up to a maximum of $6000). Also, authorities may suspend your license and impound your car for 90 days.
In short, driving without valid car insurance, Nova Scotia just doesn't make sense, especially when there are many providers offering affordable car insurance.