Compare Car Insurance Quotes in Canada
Find the Cheapest Auto Insurance Quotes in Just 5 Minutes
10 Best Car Insurance Companies in Canada – 2020
The Co-operators Insurance – The Best Overall
Despite the fierce competition, The Co-operators came out as a clear winner. That's because it performs excellently in the most crucial departments. For starters, Co-operators gets stellar scores in customer satisfaction. In J.D. Power's 2019 study for Canada, the company got the full five stars in the Alberta, Ontario, and Atlantic regions.
On top of its excellent customer service, The Co-operators performs decently in the financial strength department. It's A. M. Best rating is "A-," and its outlook is "stable." This indicates that drivers can count on The Co-operators to cover claims expenses without any fuss. 
Finally, for those looking for more than just auto insurance, Canada residents can still count on The Co-operators. First of all, the company provides investment services for its customers. You can get in touch with their financial advisors, and they'll create a plan that perfectly suits your needs and your profile. The icing on the cake comes in the form of affordable prices. While not the cheapest, The Co-operators offers quite reasonable rates. For these reasons, we would start our search for our next auto insurance provider right here.
---
Choose The Co-operators for superior customer service, solid financial strength, and reasonable prices.
Look elsewhere if you want the insurer with the best financial strength or lowest prices.
The Personal Insurance - The Runner Up

The Personal is a specialized insurer that provides coverage only to its associated companies. However, there are over 700 such organizations in Canada, meaning the chances aren't small that you can qualify for their insurance. And if you can, it's among the best auto insurance options available.
Like our winner, The Personal excels in the customer service department. It may not be as good as The Co-Operators, but the company achieved four stars in the Ontario region, and full five stars in the Quebec Region. You can add superior financial strength to the list of The Personal's plus points. The Standard & Poor's rating of its parent company, Desjardins, is "A+." This indicates that The Personal won't look for excuses and legal loopholes when the time to pay a claim comes. 
However, it's the affordable policies that make The Personal auto insurance such an excellent choice. More often than not, it was the least expensive insurer in our quote comparison. The Personal even offers a decent number of discounts and optional coverages, as long as you aren't particularly picky.
We couldn't make The Personal our overall winner due to its limited availability, but if you qualify, we urge you to consider this insurer.
---
Choose The Personal for excellent customer satisfaction and affordable prices.
Look elsewhere if you have a hard time qualifying for their coverage.
Intact Insurance - The Bronze Medalist
Intact car insurance will surely appeal to a wide range of customers. Aside from the standard coverages, this company also provides protection plans for Uber drivers and even Turo car sharing services. Never heard of Turo? It's a peer-to-peer car rental system. You just need to list your vehicle on Turo's website, and you'll receive offers to rent your car. You can then accept one of these offers, and arrange a drop-off. The best part of the whole thing is that between Intact's policy and Turo's insurance, you're protected the entire time.
Even if you don't fancy this whole car rental arrangement, Intact should still be among the car insurance companies you consider. It's one of the more affordable insurers in Canada, and its financial strength inspires confidence. Intact's A. M. Best rating is "A+," which is the second highest score possible. 
On the downside, Intact's results in the customer service department are nothing to shout about. The company scores two stars in the Alberta region, four stars in the Atlantic region, as well as three stars in the Ontario and Quebec regions.
Since the customer satisfaction score varies so much, Intact may not be the best option throughout Canada, but those looking for high-quality auto insurance in the Atlantic region should definitely consider this company.
---
Choose Intact if you want an affordable insurer that allows you to make a few extra dollars on the side by renting your car.
Look elsewhere if you live in a province where Intact gets low customer service ratings.
Desjardins Insurance - The Best for New Car Owners

Desjardins is the fourth largest car insurance provider in Canada by market share, and it's not hard to see why. The company offers a wide variety of discounts and optional coverages, together with extremely competitive rates. Moreover, Desjardins has a polished website that you can use to handle your entire policy online, as well as learn a lot of useful things about insurance.
To continue with the positives, Desjardins has an "AA1" Moody's rating and an "A+" in Standard & Poor's rating. This means you can rely on Desjardins to fulfill its part of the bargain and pay your claims expenses when the time comes.
However, the most significant upside of Desjardins is its affordable prices. Whether you're looking for cheap car insurance in Ontario, or you just want coverage from one of the least expensive insurers in Canada, you can count on Desjardins to deliver.  Furthermore, new car owners will profit significantly from its 5-year new car replacement coverage.
Nonetheless, before you commit to this company, you should know that Desjardins doesn't excel in the customer service department. It's dead last in the Ontario region, with only two stars out of five. It fares a little better in the Quebec region, where it attains three out of five stars, but that's still far from impressive. You should check The Personal insurance if you can qualify for a Canada car insurance quote from them. They are Desjardins's subsidiary, and they perform considerably better in the customer satisfaction department.
Did you know: In January 2015, the Desjardins Group finalized its purchase of State Farm's Canadian insurance branch. According to the Canadian Underwriter, the arrangement included a "sunset clause on the use of the State Farm brand name." According to the same source, Desjardins was allowed to use the State Farm Canada name until 2019 before simply switching to Desjardins Insurance.
---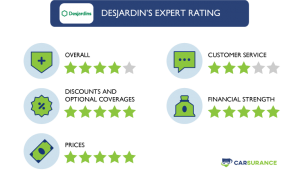 Choose Desjardins for low prices, financial stability, and excellent coverage for newer vehicles.
Look elsewhere if you want high-quality customer service.
Belairdirect Insurance - The Best for Low Mileage and Uber Drivers
Belairdirect is Intact's subsidiary, and while both companies offer coverage for Uber drivers, we think the former will be more appealing for this particular category. That's because Uber statistics show that the vast majority of the company's drivers are young or middle-aged. Given this piece of data and the fact that Uber is an online-based service, we assume they'll prefer a forward-thinking insurer. 
Belairdirect is just that, being the first company to offer a car insurance quote online in North America, back in 1997. Additionally, belairdirect, as its name suggests, sells its products directly to customers, skipping third-party brokers and the unnecessary hassle with agents. Nonetheless, if you still like to sort some things out through an agent, belairdirect also offers that option.
In addition to Uber drivers, regular customers should also give belairdirect car insurance a chance. The company offers affordable policies and a wide range of optional coverages and discounts. Belairdirect is also as financially strong as an insurer gets, given that it's a subsidiary of Intact, the biggest insurer in Canada by market share. The company even provides exceptional discounts for low-mileage drivers and those with a clean record, something you should heavily consider if you belong in these categories. 
Last but not least, belairdirect also achieves respectable results in the customer service department. The company scored four stars in the Ontario region and three stars in the Quebec region.
For these reasons, we are sure many Uber drivers and tech-savvy customers will be happy with belairdirect.
---
Choose belairdirect if you are an Uber driver or if you like to handle things online.
Look elsewhere if you want the most reliable customer service or you prefer to work with an agent.
Aviva Insurance: The Best for Lyft Drivers
If you drive for Uber's competitor, Lyft, you should consider Aviva auto insurance. Unlike belairdirect, Aviva also fully embraces the offline business model, meaning it employs a vast network of agents that'll help you customize your policy by a good old phone call. A skilled insurance specialist might be the perfect thing you need in some instances. They'll help you find which coverages you need and show you how to get the most out of your policy. Nonetheless, if you like to obtain quotes online, Aviva offers that option too.
When it comes to Aviva's performance in the relevant insurance metrics, the company has a spotty record. In the customer service department, it's undoubtedly not the best car insurance company around. Aviva gets a disappointing two stars in the Atlantic, Ontario, Alberta and Quebec regions. The company fares a little better in the financial strength department. Aviva's A. M. Best rating is "A," or "Excellent," indicating a strong ability to pay customers' claims.
In terms of prices, we found that Aviva offers reasonable rates while not being the cheapest around. We should note that we didn't verify this directly since Aviva doesn't provide online quote options.
Overall, Aviva is not a company we would recommend universally, but for Lyft drivers, it's a solid choice.
---
Choose Aviva if you're a Lyft driver or if you prefer working with insurance agents.
Look elsewhere if you want reliable customer service or online quotes.
TD Insurance: The Cheapest Option

Are you looking for the cheapest insurance in Ontario or even another Canadian province? Give TD insurance a chance. While we didn't find a company in Canada that constantly provides the lowest rates, like Progressive and Geico do in the US, TD usually was the least expensive in our research. For instance, in Montreal, TD charged just $56 for a full coverage policy.
Besides affordable rates, TD auto insurance has many things to offer. For starters, the company has a useful and polished website, where you can get an online quote. If you use it, you may even get a 5% discount on certain coverages. And you can add a sufficient number of optional coverages and stable financial operations to TD's positives.
When it comes to customer service, TD usually gets average scores, but the company receives four out of five stars in the Atlantic region, meaning it's a particularly strong choice for customers there.
Overall, TD should be near the top of the list for customers looking for low rates, and in the middle for customers who are prepared to pay a little bit more for higher quality coverage.
---
Choose TD if you want affordable rates.
Look elsewhere if you want the finest customer service.
Economical Insurance: The Best for High-Risk Drivers

Having trouble getting a good car insurance quote in Canada? Is your driving record far from pristine and insurers are trying to charge you an exorbitant amount of money? Give Economical a chance. Similar to Progressive in the US, this insurer has had an established reputation for covering high-risk drivers since 1968. This means that Economical will offer lower rates than most other companies.
Besides high-risk customers, Economical caters to another category: antique car owners. If you have an original Shelby Cobra in perfect condition or a custom-built hot rod, you should talk with an Economical agent about possible custom-tailored coverage.
Speaking of agents, in most provinces, Economical does its business exclusively through insurance brokers. This means that if you look for coverage on their website, you'll be directed to the typical "car insurance near me" page, which shows the closest agents. Nonetheless, the company provides online car insurance quotes in some cities in Quebec.
If you can live without the convenience of shopping for insurance online, you'll find that Economical has many things going for it. For starters, it scores well where it matters most—in the customer satisfaction department. Economical receives four out of five stars in the Ontario region, which is a fine result. The company also gets an "A-" A. M. Best rating, which, though not the highest possible, guarantees a firm capability to pay claims. While not world-beating, these results make Economical not just the best car insurance for high-risk drivers but also a worthy choice for regular customers
---
Choose Economical if you're a high-risk driver.
Look elsewhere if you want the absolute best financial strength or customer service.
RSA: The Best for Additional Benefits
If you like to get a little extra something from your insurance policy, check RSA. The company offers reward miles for regular premium payments. Obviously, you can use these for air travel discounts, but there are some other exciting ways to benefit from this program. You can redeem your AIR MILES® for travel vouchers, rental car services, or even concert tickets. For instance, at the time of writing, we could get a VIP pass for Bastille, Mary J. Blige & Nas, and the Jonas Brothers (we don't judge anyone's musical taste).
Besides the reward miles, RSA insurance in Canada has a few more perks to offer. There's a Claims Protection Plan, which guarantees your premium won't increase after your first at-fault accident. RSA also provides a Lifetime Repair Guarantee, which warranties the repairs completed at RSA-approved facilities.
When it comes to other relevant parameters, RSA ranks in the middle of the pack. It's not rated in J.D. Power's Canada rankings, but the company holds an "A+" on the Better Business Bureau's website (although the company isn't accredited yet). RSA also holds an "A" from A. M. Best, indicating a stable financial outlook and firm ability to pay claims. 
Howe, like Aviva and Economical, RSA provides quotes exclusively through insurance brokers. This means purchasing coverage online isn't an option. If this isn't how you want to get an auto insurance quote, check out our next contender.
---
Choose RSA if you want to profit from paying your insurance premiums.
Look elsewhere if you want the lowest prices or online quotes.
Sonnet: Best for Online Tools
Are you a person who prefers doing everything from the convenience of your home, avoiding unnecessary trips and awkward conversations? Then Sonnet might be just the one for you. The company has a neatly organized, fast online quoting tool, although it requires a little bit more info than usual.
On top of that, the Sonnet's website is the best we've seen out of all Canadian insurance companies, with a plethora of useful guides and studies. Furthermore, it's quite easy to navigate and eye-catching to boot.
However, polished online solutions aren't the only reason to give Sonnet car insurance a chance. The company offers an excellent blend of ready-made coverage plans (the Essential, the Preferred, and the Ultimate). They provide effortless access to cheap insurance bundles that'll appeal to a wide range of customers. 
Sonnet isn't shabby in other departments either. While the company doesn't appear in the J.D. Power rankings for auto insurance in Canada, its rating on the BBB's website is "A+," indicating the company genuinely cares about its customers. Furthermore, Sonnet's A. M. Best rating is "A-," which may not be the best result possible, but it shouldn't worry an average customer.
In fact, the only notable downside is that the Sonnet's premiums are on the expensive side.
Nonetheless, every driver who likes to buy insurance online should consider Sonnet.
---
Choose Sonnet if you want an affordable insurer that offers terrific online tools and great bundles.
Look elsewhere if you want the cheapest insurer or you prefer handling insurance through an agent.
Auto Insurance in Canada's Three Most Populous Cities
Auto Insurance in Canada's Three Most Populous Cities
We gathered quotes from the major insurers in Canada's three most populous cities. Our sample quote was for a 40-year-old male driver with a clean record. We chose full coverage limits, which included $1 million in third-party liability together with accident benefits and family protection. We also added collision and comprehensive coverages, each with $500 deductibles. Our reference vehicle was a 2018 Honda Civic SE worth around $25,000.
Car Insurance in Toronto
Insurance is quite expensive in Canada's most populous city. What's even more surprising is that our overall cheapest insurer, TD, was the costliest option. On the other hand, The Personal is both the cheapest and also the best insurer in Toronto—if you can qualify for their coverage. If you can't, RBC auto insurance, Desjardins, and especially belairdirect are worthy alternatives.

Auto Insurance in Calgary
While not as expensive as Toronto, auto insurance prices are still higher than the national average in Calgary. If you can qualify for The Personal's coverage in this city, we think it's a no brainer. If you can't, we would suggest stretching your budget and buying coverage from The Co-operators. If The Co-operators seems just too expensive, TD can be a viable alternative.

Car Insurance in Montreal
The residents of Montreal are in luck. They have plenty of affordable, high-quality insurers to choose from. TD leads the pack by offering a full coverage policy for just $56 per month. Still, we would choose The Co-operators or The Personal instead, since these companies provide higher quality customer service without charging an arm and a leg for their coverage.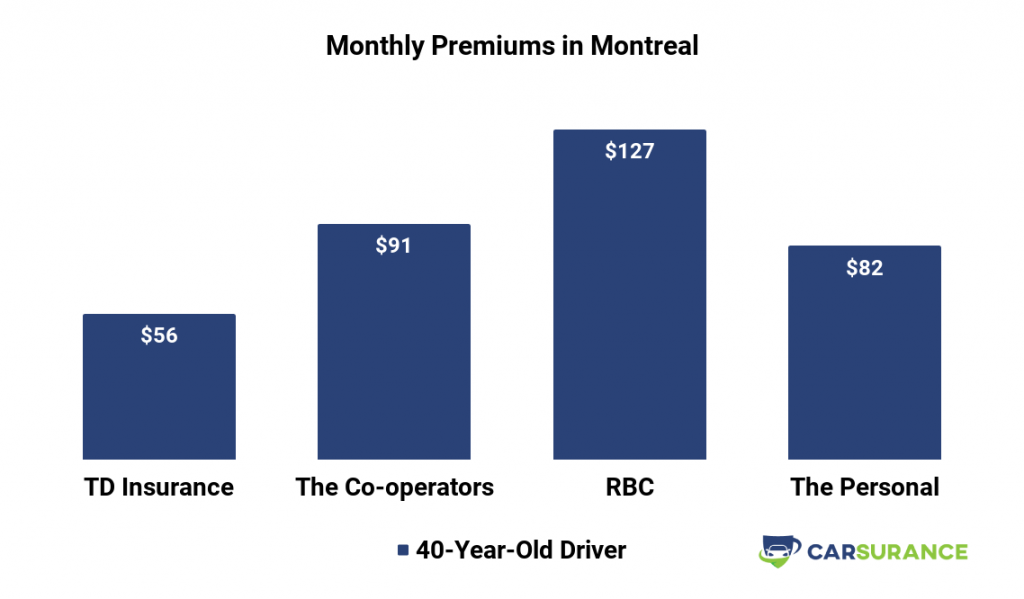 An In-depth Guide on How to Find Cheap Car Insurance in Canada
Factors That Impact Your Car Insurance Rates in Canada
How to Lower Your Insurance Premium
How to Choose the Best Car Insurance in Canada for You
But how will you know which insurer is the one for you? Well, this guide you're reading now is designed to help you decide. However, there are even more things you can do. For starters, you can determine if you need high-risk auto insurance or another specific type of coverage. If you do, certain insurers specialize in these kinds of drivers, and they'll offer you better rates than regular companies.
Furthermore, if you like a particular insurer a lot, you should check a couple of insurance reviews before you buy their coverage. These will tell you how that company scores in relevant departments such as customer service and financial strength. The more you know, the better.
Our Guide to Different Insurance Coverages and the Standard Regulations for Auto Insurance in Canada
Types of Insurance Coverage in Canada
These are the most common kinds of protection plans in Canada. The exact details and availability may vary depending on the province and the insurance company.
Third-Party Liability Insurance (Section A) 
This coverage is the bread and butter of Canada car insurance, and it's mandatory in almost every province. It pays for any injuries or property damage you caused in an at-fault accident. The minimum limit is $200,000, but the majority of drivers choose either $1 million or $2 million.
This is a mandatory car insurance plan in Ontario and a few other Canadian provinces. Its purpose is to cover your injury-related expenses or death benefits regardless of fault. It protects you and your passengers, as well as any pedestrians who were involved in the accident. Since this is no-fault insurance coverage, it functions much like a personal injury protection plan in the US.
Direct Compensation Property Damage (DCPD)
This is a mandatory component in a Canadian auto insurance policy in some provinces. It makes getting reimbursed for the damage your vehicle sustained much easier when you aren't the person who caused the accident. If you have DCPD coverage, you'll make a claim directly against your insurance company, instead of going after the at-fault driver's liability. 
That way, you'll receive your compensation much faster and leave yours and the at-fault driver's insurance companies to settle the fault and the payment.
Uninsured Automobile Coverage

 
This a mandatory coverage in most provinces that protects you if you're hit by an uninsured driver. It provides bodily injury and death benefits. It also covers your vehicle and any valuable property you may have inside. 
Family Protection (Endorsement 44R) 
This is an optional coverage that we highly recommend adding to your auto insurance quote. It offers additional protection for you and your close family if a driver with insufficient limits on their policy hits you. It only covers bodily injury-related expenses, but it includes death benefits too.
Family protection pays the difference between the actual damage and the limit of the driver with inadequate insurance. For instance, if your family protection limit is $1 million, the amount of incurred loss is $700,000, and the at-fault driver's liability is $500,000, your family protection coverage will provide the remaining $200,000. 
Collision Insurance (Section B2)
Collision is an optional coverage in most provinces, but it's mandatory together with comprehensive in Manitoba (a comprehensive and collision bundle is commonly known as "all perils"). 
You can add it to your automobile insurance plan for an extra charge. However, often a lender will require this coverage as part of the deal. It protects your vehicle regardless of fault from damage after a car accident. It will also cover you if your car rolls over or hits another object.  
Comprehensive Insurance (Section B3)
Comprehensive is optional in most instances. It extends the protection that collision offers to damage that happens off the road. It includes perils such as theft, vandalism, fire, wind storms, floods, falling objects, lightning, riots, and similar things. As a note, this type of vehicle insurance rarely covers any damage that's the result of an act of terrorism or war.
Usually, if your vehicle is declared a total loss, your insurance company will only pay the actual cash value of your car. That amount is equal to the average price of a vehicle that's the same make and model as yours in the used car market.
Since a new car depreciates rapidly, buying this optional coverage is a smart thing to do. If you choose this car insurance plan, your vehicle will be replaced with a brand new one. Furthermore, many companies, such as Desjardins, will also include new manufacturers' spare parts if you only suffer a partial loss.
Emergency Roadside Assistance
This optional coverage is inexpensive, and we highly recommend adding it to your policy if you need car insurance in Canada. It provides help if your vehicle breaks down beside the road. It often includes services such as towing, locksmith assistance, flat tire replacement, battery jump-starts, fuel, and oil delivery. Most Canadian insurers offer various roadside assistance packages, with the more expensive ones offering higher towing limits.
If your car is damaged or destroyed in an accident, you'll be left without transportation while you wait for your claim to settle. That's where this optional coverage can help. If your vehicle was taken out of commission in a covered accident, your car insurance company covers the expenses of you getting around. These include a rental car or bus tickets. However, don't expect to rent some luxury vehicle. Insurance companies set the daily limits and the maximum amount you can spend.
If you choose this coverage, your first at-fault accident won't increase your premium if you've been accident-free for a while. The exact period varies depending on the insurer, but it's usually five years. This coverage is optional in most provinces, while in Quebec it's included in the government's plan.
Public vs. Private Insurance in Canada
There are two separate kinds of car insurance in Canada: private and public. For-profit companies operate the former while the Canadian government's companies run the latter. 
Each of these insurance systems has its advantages and drawbacks. The primary benefit of a public insurance system is that customers get their insurance when registering their vehicle. This means that they don't need to spend extra effort shopping around to find the cheapest and the best coverage for them. Public policies are one size fits all. 
Drivers in Manitoba, British Columbia, and Saskatchewan are mandated to purchase basic public insurance, while they can typically buy higher limits or optional coverage from private insurers. The car insurance system in Quebec allows drivers to buy only bodily injury-related coverages from public insurers, while other protection plans are available through private companies.
On the other hand, private insurance companies are all competing for clients, meaning they have to stay ahead of the curve to survive in today's cutthroat market. That's why they'll offer various perks, better online tools, and cheaper policies.
How Coverages Differ by Province
Each Canadian province has its rules. These may relate to their mandatory coverages or whether you'll be buying public or private insurance. Check the table below for full details in each province.
Average Provincial Car Insurance Rates
We used our data and the information gathered by Sonnet insurance, together with research by InsurEye, to determine the average rates in each Canadian province, along with who offers the most affordable coverage. Check the table below for the full details.
Frequently Asked Questions
How much does it cost to insure a car in Canada?
The average monthly premium we found, based on research in all 10 Canadian provinces, was $191 for full coverage.
Our reference vehicle was a 2018 Honda Civic, and our quote included $1 million third-party liability coverage, together with comprehensive and collision coverages.
If you drop these two coverages, or if your car is less expensive than our Honda, the premium will likely be lower—near $110.
How does car insurance work?
It's a contract between you and your insurance company. Your insurer is obliged to provide you with the coverage you choose, while you agree to pay the premium.
Most insurance policies last for six months or one year. If you get into a car accident, you'll be making a claim with your insurance or against the at-fault driver's insurance.
A claim is a request to get compensation for the damage you suffered. Once you make a claim, an adjuster will review it and determine the expenses if your claim is valid.
When is a good time to shop for auto insurance?
We generally suggest that you begin comparing insurance quotes two months before your current insurance policy expires.
We recommend following this practice even if you're satisfied with your current coverage. Besides, it's a good idea to explore the market after any important life event, such as getting married, for example.
They can have a significant impact on your rates.
Which is the cheapest car insurance company in Canada?
This really depends on many factors, such as your home province and your profile. Nonetheless, The Personal, TD, and The Co-operators generally offered lower rates among all the insurers we tested.
How much coverage do I need in my insurance policy?
To legally drive a car in Canada, you'll need the minimum policy required in your home province. Nonetheless, we strongly urge drivers to choose higher limits and add some optional coverages. By doing so, you'll practically eliminate the chance of spending money out of your pocket if an accident happens. The best way to find the right combination of coverages for you is to buy car insurance online in Canada. That way, you'll be able to add and delete coverages as you please and see how much each adjustment affects the final price.
Is US car insurance valid in Canada?
Yes. In most situations, your US car insurance will be sufficient in Canada too. That's because the US and Canada have an agreement on the reciprocal treatment of their citizens, as far as this kind of insurance is concerned.
This means that your US policy will be valid in Canada, with the exact same limits and coverages as in the US.
However, if you plan to spend more than 180 continuous days in Canada, you'll need to purchase Canadian insurance.
Why is car insurance so expensive in Canada?
The auto insurance Canada offers can be expensive, especially for high-risk drivers or those living in a densely populated area.
For instance, drivers in Ontario pay $160 per month on average for a standard policy, which is the highest average premium in Canada.
Nonetheless, these Canadian insurance plans are usually more affordable than what you'll find in the US. This is particularly true given that Canadian policies have higher limits and usually provide more extensive protection.