Over the last couple of years, the passenger transportation market worldwide was revolutionized following the appearance of Uber, Lyft, and other ridesharing apps.
So far, reports indicate that by 2025, the market will reach a value worth $12 billion, as more and more people throughout the world choose these options since they offer easier ride booking, better cars, polite drivers, and good prices.
Our Lyft vs Uber article is focused on providing readers with an in-depth comparison between Uber and Lyft, two of the largest market players in the ridesharing economy.
Similarly, we will feature an in-depth description of both companies, while also comparing prices, app quality, food delivery programs, insurance, alongside driver and customer satisfaction.
It is important to keep in mind the fact that this article is mostly focused on the Canadian market, yet many of the facts outlined below apply to the companies in any region they operate.
Lyft vs Uber – Key Takeaways
Uber is currently available in over 785 metropolitan regions and over 63 countries
Lyft is available throughout the United States and in several Canadian cities
Uber had reported earnings of $11.27 billion and assets worth $24 billion in 2018
Lyft had reported earnings of $2.1 billion and assets worth $3.76 billion in 2018
People aged 18-44 prefer ridesharing services over taxis, whereas individuals aged 44+ prefer traditional cabs
Uber Company Overview
Uber, known by its full name of Uber Technologies Inc., represents a public American ridesharing company that was founded in March 2009. The company was originally created to serve as a peer-to-peer ridesharing app, thus providing the platform required for drivers and passengers to connect with one another.
With time, Uber has added several other services, including food delivery through Uber Eats, ride service hailing, and bicycle-sharing.
Uber is currently based in San Francisco, yet it is a multinational company, given the fact that it is currently available in more than 785 metropolitan areas (63 countries) throughout the world. We will compare worldwide coverage numbers when we talk about Uber vs. Lyft.
The company's success was stimulated thanks to its seamless integration into the lives of its customers. As such, using the app is bound to be very easy since users simply have to create an account and add payment information to get started.
Ordering a car shouldn't cause any trouble at all, as passengers simply need to enter their pick up location and the destination for the trip. Generally, a driver will accept the trip and arrive within 10 minutes, since metropolitan areas feature lots of drivers who are waiting for the next trip.
Uber Prices & System
Many reports indicate that Uber is even cheaper when compared to taxis, although this isn't always the case. The argument towards lower prices is based on the idea that drivers are contractors.
Therefore, they are solely responsible for their vehicles, insurance, and licenses. Thus, friction is considerably reduced while increasing overall efficiency.
This isn't generally the case with taxi companies, which have their own fleet and must ensure they take good care of both vehicles and drivers. Now that we have explained what's Uber, it's time to talk about the numbers.
A report issued in 2019 showcases that Uber has roughly 110 million users worldwide. This entails a market share of approximately 69% in the United States for its peer-to-peer ridesharing service. Uber also features a 25% market share for its food delivery services in the US.
In terms of its revenue, estimates indicate that Uber has made $11.27 billion during 2018 while holding assets worth approximately $24 billion. This aspect is very interesting when considering the Lyft vs Uber perspective.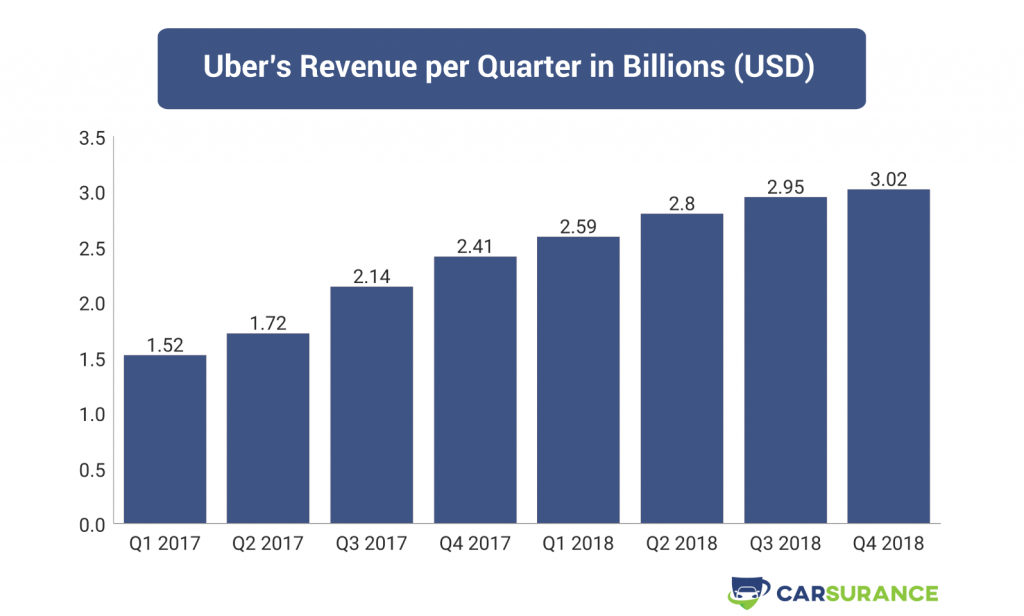 (Source)
Uber started its international expansion with France in 2011, followed by Canada in 2012. Since our article is mostly focused on the Canadian market, it is important to mention the cities and provinces where Uber currently operates.
As such, the Canadian market expansion started with Toronto, yet the ridesharing service is now available in multiple regions of the country. According to Uber, these include Calgary, Edmonton, Gatineau, Hamilton, Kingston, Kitchener-Waterloo, Lethbridge, London (Ont), Montreal, Niagara Region, Ottawa, Quebec City, Red Deer, Regina, Saskatoon, Vancouver, Windsor, and Winnipeg.
In terms of the Canadian market share, a recent survey conducted by Statista showcases that 49% of people aged 18-24 prefer calling an Uber over a taxi. The percentages are in favor of Lyft or Uber for people aged up to 44. From that point onwards, it seems that people prefer calling a traditional taxi.
When it comes down to driver revenue, the actual numbers tend to depend on the region where the driver is active, alongside her experience, type of car, rating, and how many actual hours she spent driving. 
Estimates indicate that drivers make roughly $11.40 per trip, which results in around $22.80 every hour. According to driver anecdotes, the general revenue is roughly $160 for every day spent on the road. At this time, there are roughly 90,000 Uber and Lyft drivers active in Toronto.
Lyft Company Overview
So what is Lyft? Just like Uber, Lyft represents a ridesharing company that is based in San Francisco and gives users access to several innovative services, including car rides, scooter rental, and bicycle-sharing. It was founded in June 2012 and has since expanded to numerous regions in the United States and Canada.
A key difference worth pointing out here is that Lyft hasn't yet started its expansion in other countries, and is therefore available only in North America.
So, where is Lyft available? Speaking of Canada, it is currently available in Ontario, more specifically in Ajax, Brampton, Hamilton, Mississauga, Newmarket, Oshawa, Ottawa, Richmond Hill, and Toronto. Therefore, from an availability standpoint, Uber is currently usable in considerably more regions and countries as opposed to Lyft.
However, the number of Lyft cities is bound to increase as the company continues its expansion within the Canadian market. It is worth pointing out that Lyft came to Canada in 2017.
Similarly to Uber, Lyft also bases its success on seamless integration within the lives of its users, given the fact that it offers an easy-to-use interface, while also offering quality services for acceptable prices.
As a publicly-traded company, Lyft reported revenue of $2.157 billion in 2018. It holds assets worth $3.76 billion, although reports indicate that its net income and operating income have recently decreased. In terms of its market share, Lyft holds the second position in the United States right after Uber, with a share of 28%.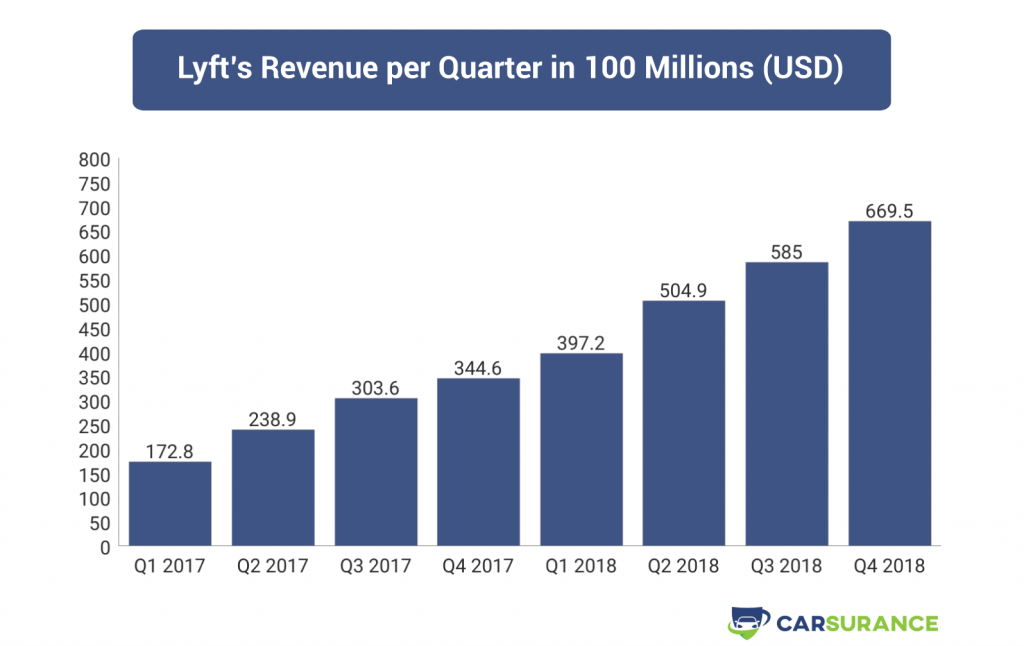 (Source)
How does Lyft work with food delivery? At the moment, Lyft does not offer a food delivery service, although there are rumors indicating that one would be offered in the future. So far, the company has tested several partnerships with local restaurants.
Over the last couple of months, the number of Lyft drivers has been increasing in both Canada and the US. However, Uber continues to hold the top spot, given that Lyft has less than 50,000 drivers in Canada, as opposed to Uber's 100,000.
In terms of driver revenue, reports indicate that the numbers are slightly lower when compared to Uber. In Canada, the average Lyft driver tends to earn a weekly pay of $500. Of course, the actual pay depends on the quality of the ride, ratings, trips, and how much time a driver chooses to stay on the road.
Lyft vs Uber – Prices in Canada
Since these two companies represent direct competitors to one another, they engage in a strategy meant to constantly lower prices. The idea here is that once a company launches a promotion, the other ridesharing app will follow with a counter-offer. Despite this aspect, our analysis has shown that prices are similar for both apps in Canada.
Our price analysis will also feature a brief discussion on ride types of surge pricing.
To help put things into perspective, we have carried out a price analysis of Lyft vs. Uber in Toronto. The pick-up destination was set to Centre Island Toronto, whereas the destination was set to the Toronto Pearson International Airport, a route that is often taken by the apps' users.
Depending on the roads taken, the route is approximately 24 kilometers long, and generally takes cars 30-60 minutes depending on traffic conditions.
As such, in the case of Lyft, for the basic personal ride, which is the cheapest type of trip available on the platform, the Lyft estimate was $40-$45. Other quotes prices include $70-$77 for the XL ride, $84-$91 for the Lux ride, $120-$130 for Lux Black, and $130-$142 for Lux Black XL.
We've done the same price simulation in the case of Uber. Similarly to Lyft, the actual price is bound to depend on the type of ride that you choose, alongside traffic conditions and any on-going promotions.
With this in mind, the Uber estimate cost was $33-43 CA for Uber pool, $34-$44 for Uber X, $40-$52 for Comfort, $61-$79 for Uber XL, $67-$88 for Select, $99-$123 for Black, and $103-$133 for Black SUV.
Therefore, in the case of the cheapest personal ride, Lyft users can expect to pay $40-$45, whereas Uber users need to pay $34-$44. According to these price estimates, you might have a question on your mind – is Lyft cheaper than Uber? It depends!
Based on this, it is important to keep in mind that in real-world conditions, you'll also have to take surge pricing into account. Both companies tend to up the prices in case there's an increased demand for rides, yet insufficient drivers are available on the road.
Reports indicate that users can expect to pay even 50% more for rides in the case of surge pricing. Therefore, the recommended practice is to keep both apps on your phone, and simply choose the lower price estimate when booking a trip.
Similarly, the actual price of a ride also depends on the type of ride that you choose. Uber features a cheaper alternative dubbed Uber Pool, where you basically share the car with other passengers. Lyft does not currently offer a service like this.
Uber vs Lyft – The App Quality (in Canada)
The apps of both services are quite similar since they serve a common purpose – connecting drivers with passengers while keeping track of trips.
The following analysis of app quality is based on our own perception of the apps when tested out in Canada.
Design
Both companies have invested in quality design, meant to create a pleasurable user experience. There are slight differences when it comes down to how the apps present the available services, but the design remains mostly similar.
The only noticeable differences we observed in our Lyft vs Uber review are different color gradients used, alongside branding.
Ease of Use
The main goal of any mobile-based app should be to ensure that users have no trouble finding what they are looking for. As such, both companies have tried their best to create a seamless user experience, where creating an account, adding payment information, booking a ride, and keeping track of past rides is as easy as possible. They mostly succeeded, given the fact that any Uber user will instantly get used to Lyft and vice-versa.
The same aspects apply to the Uber and Lyft driver app, where drivers can keep track of payments, navigate, and accept trips.
Functionalities and Performance
Many people report that the Uber app has become quite cluttered, given the numerous features that have been recently implemented. Cross-promotion to other services exists as well, which might confuse certain users.
Both apps feature similar functionalities, alongside the ability to select from several types of trips. So far, both apps have dealt with their fair share of bugs and problems, yet both companies were quick to release updates.
From a theoretical standpoint, Uber should have an easier time working on performance and mitigating issues as they appear, given its revenue and market share. However, Lyft hasn't dealt with any serious outage until now.
Based on these factors, the general trend is that many users in Canada have both Uber and Lyft installed on their phones, and simply choose the option that offers a lower price, or a ride that is closer to their location. Installing both apps is a good idea since you can also avoid surge pricing this way.
Food Delivery Programs in Canada
A few years ago, Uber launched its Uber Eats program, an app meant to facilitate food delivery from restaurants that do not have their own delivery team. Within a short period of time, the service became incredibly popular and is now widely used by people throughout the world.
When it comes down to our Lyft vs Uber comparison, Lyft does not currently feature a food delivery program in Canada or the United States. On the other hand, Uber Eats is available in 23 Canadian cities, including Toronto, Kingston, Windsor, Aurora, Newmarket, and more.
The Uber Eats app doesn't only serve as a way to connect food delivery partners with customers. Rather, it also makes ordering food easy since it features intuitive menus, alongside a series of personalized recommendations for its users.
Of course, there are numerous other options for food delivery available on the market, but Uber's success is based on its popularity and ease-of-use for the app.
Uber vs Lyft – Driver and Customer Satisfaction Ratings in Canada
Generally speaking, driver satisfaction is based on several factors, including but not limited to, income for the time spent working, waiting time between trips, ease of use of the platforms, legal requirements, support, driver bonuses, and more.
With this in mind, both platforms are known for their actions meant to increase overall driver satisfaction. After all, low satisfaction is bound to encourage drivers to migrate to different platforms or to give up on ridesharing altogether.
From a Canadian perspective, it is important to point out that there are more Uber drivers as compared to Lyft drivers. The reasons behind this discrepancy tend to vary, yet many analysts believe that the difference in number is simply based on the argument that Uber was here first, which is why many drivers did not see a reason to migrate to a different app.
Income
From an income standpoint, regardless if we are talking about Lyft or Uber, studies showcase that drivers of both platforms feel underpaid. Both platforms feature promotions meant to help put more drivers on the road. These include welcome bonuses, alongside bonuses for top rating, completing a specific number of trips, or working on national holidays.
When the platforms were still new to the market, these bonuses were given more often.
Driver Support
Both platforms have spent time developing and implementing smarter driver support services, such as a 24/7 phone line and app-based support. It is important to keep in mind that support is mandatory, given the fact that drivers often have to deal with unpleasant passengers, lost belongings, and other types of issues.
Legal Requirements
Legal requirements strictly depend on the jurisdiction where drivers choose to work. Therefore, basing driver satisfaction on this factor alone would be difficult, given the fact that legal requirements aren't set by Uber or Lyft but rather by state authorities. Both platforms are based on the same principles. Thus, there is no legal difference between Uber and Lyft.
In terms of customer satisfaction, both platforms have a good track record of dealing with customer complaints, while ensuring that drivers offer satisfactory services. However, we must mention that both platforms have had their fair share of controversy over driver-related offenses, such as bad behavior and kidnappings.
In this sense, Uber and Lyft are actively working to ensure that drivers are psychologically fit for this profession and that they have a positive and accommodating attitude.
Since both platforms are dealing with people and given that everyone is different, no one can provide a 100% assurance that things will go according to plan. However, the statistical chance of being involved in an incident or even an accident is quite low, regardless of whether you choose Lyft or Uber.
Rideshare Insurance in Canada
At the moment, most personal automobile insurance policies do not offer coverage in case the car is used for ridesharing purposes. As such, additional commercial insurance is required to ensure that drivers are not personally liable for damages.
Because of this, it is in the best interest for both Uber and Lyft drivers to carry out their due diligence in finding an insurance provider that fits their specific needs. Insurance reviews might serve you very well in this search.
Generally, ridesharing insurance policies should cover the numerous liabilities associated with working as an Uber or Lyft taxi driver. As such, coverage should be extended to collision damage, medical expenses for both the driver and passengers, and even repairs (given the high wear-and-tear of ridesharing vehicles).
The monthly premium cost is directly based on the car model, how much liabilities the insurance policy covers, but also on the deductibles. Therefore, a cheap premium might entail limited coverage or out-of-pocket costs when dealing with a collision, repair, or injury.
Similarly, insurance companies offering ridesharing policies should offer quick repair services, given that every day spent without a car is a day the driver cannot work. A recommended tip would be to base your search on insurance statistics since this will help give you better insights into how automotive insurance generally works.
Bottom Line
Based on everything that has been outlined so far, Uber and Lyft are the two most popular ridesharing apps currently operating in Canada and other regions of the world. The differences between Uber and Lyft are minimal, yet still worth keeping in mind.
Our research has shown that the two companies still face several challenges, which they will hopefully overcome within the next few years. Some of the main challenges include regulatory issues, driver/passenger behavior, and low earnings for partner drivers.
However, it seems like Uber and Lyft are aware of these issues and are trialing new procedures meant to help increase driver pay while reducing the likelihood of driver-passenger incidents.
As current trends predict, the two ridesharing services will continue their growth, as they implement more services and work towards achieving a more standardized approach.
When discussing the Lyft vs Uber competition, the latter certainly is one step ahead, given its global expansion and higher revenue. However, Lyft is quite likely to catch up! After all, there are no significant differences between the two platforms, apart from their areas of operation.
People Also Ask
Is Lyft cheaper than Uber?
The pricing differences between Lyft and Uber are insignificant, although both companies are actively trying to under-price one another. Actual rates depend on location, driver availability, and traffic conditions. As such, no platform should be chosen exclusively because of its lower prices.
How is Lyft different from Uber?
Lyft is currently available only in the United States and Canada, whereas Uber is available globally in over 60 countries. Similarly, Lyft might be available in the US and Canadian cities where Uber does not have coverage.
What time of day is Lyft cheaper?
There is no exact time of the day when Lyft is cheaper. However, we must point out that Lyft features a promotion named 'Happy Hour Pricing,' which offers cheaper fares when there is low demand for rides. Generally, you can expect cheaper fares with optimal traffic conditions in any of the Lyft cities.
Is it cheaper to schedule a Lyft in advance?
With scheduled rides, Lyft offers upfront pricing, which is a feature that is not available when requesting a traditional trip. Similarly, upfront booking ensures that you'll have a ride whenever you need it, without having to worry about driver availability in your area.